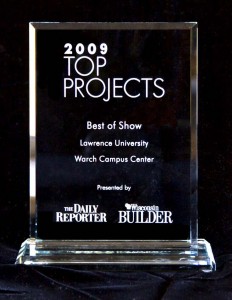 Lawrence University received one of the state's most coveted construction honors last night (April 21, 2010) when The Daily Reporter and Wisconsin Builder magazine named the Warch Campus Center "Best of Show" at the magazine's annual Top Projects awards ceremony in Pewaukee.  One of 31 construction projects in the state selected to compete for the award, Wisconsin Builder's highest honor was a closely guarded secret until it was announced.
Joining Lawrence's Lynn Hagee for the "Best of Show" recognition were representatives from The Boldt Co., the Appleton-based general contractor for the campus center, and Uihlein/Wilson Architects Inc., Milwaukee, one of the architectural firms working on the project.
A panel of independent judges were asked to consider the challenges the project overcame during construction, the benefit the project had on the community and any advancement it provided to the state's commercial construction industry.  The project's team members were praised for constructing a stunning building on a challenging site. Built into a bluff over the Fox River, the judges said the Warch Campus Center presented "every challenge regarding earth-retention, limited space and support systems."
Here's  video from the Top Projects Awards.