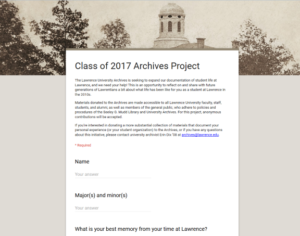 Calling all seniors: the LU Archives is seeking to expand our documentation of student life at Lawrence, and we need your help! This is an opportunity to reflect on and share with future generations of Lawrentians a bit about what life has been like for you as a student at Lawrence in the 2010s.
If you are interested in sharing reflections, please consider submitting a response to this form. Responses will be added to the Class of 2017 collection in the LU Archives and made accessible to all users who adhere to policies and procedures of the Seeley G. Mudd Library and LU Archives. For this project, anonymous responses will be accepted.
If you have questions about this initiative or are interested in donating other types of materials that document your time at Lawrence, please feel free to email archives@lawrence.edu or stop by the Archives in the library (level B).