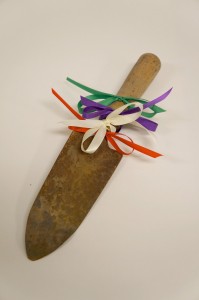 This post comes from Kasie Janssen '12, intrepid Archives volunteer:
After hours of assigning call numbers, cataloging, photographing, and re-housing, the collection of Milwaukee-Downer College artifacts have been processed.  You may have seen several of these artifacts on display in the Milwaukee-Downer room of the library, but the remainder being stored in the Archives is extensive and diverse.  The items span the school's history, starting in 1895 to the consolidation with Lawrence in 1964: class jackets, beanies (which may one day make a come-back as a fashion staple around campus), a Hat Hunt toothbrush, and the yellow class's "Foink" to name a few.
The completion of this project not only enhances the organization and use of space in the archives, but the accessibility will grow exponentially.  The artifact descriptions and images are now available to be viewed and researched in our online collections database, allowing students and alumni access to these pieces.