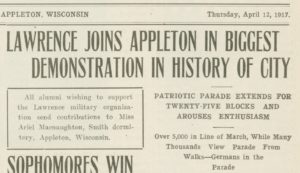 This April marks the 100th anniversary of the entry of the United States into the First World War. As it did across the US and particularly in colleges and universities, the war had profound effects at Lawrence. Among the changes brought about during these years:
Enrollment dropped quickly after war was declared as men students began enlisting, serving with the YMCA, or joining other organizations in support of the war. This decline continued throughout the 1917-1918 academic year.
Students who remained at Lawrence (and particularly women students) led efforts to support the war, forming a Red Cross chapter, making bandages, sponsoring drives to sell war bonds, and so on.
Anti-German sentiment resulted in a 50 percent drop in attendance for German language courses by the fall of 1917. By the next fall, only seven students chose to enroll in German classes. More ominously, German faculty members faced discrimination both on and off campus.
Lawrence would likely have closed had it not joined 300-400 colleges around the country in hosting a Student Army Training Corps (S.A.T.C.) unit in the fall of 1918. Four hundred men joined the unit and attended Lawrence, along with 210 women and only 36 civilian men. The signing of the Armistice in November 1918 led to the discharging of the unit in December, but operations at Lawrence had radically changed for these few months.

SATC unit at Lawrence, fall 1918

When all was said and done, twelve Lawrence students and alumni were killed in the war. The Memorial Chapel was dedicated in part to their memory when it was completed in December 1918.
The war also brought about changes at Milwaukee-Downer College. Most notably, it provided the impetus for expanding the school's "Applied Arts" curriculum into an Occupational Therapy program, one of the first in the country.
The next year and a half will provide opportunities to explore some of these changes in depth. In the meantime, if you're interested in researching this period in Lawrence history, we have lots of resources in the LU Archives.