In our continuing recognition of American Archives Month, this week we're talking about the kinds of questions that resources in the LU Archives are used to answer. We receive about 30 to 40 reference requests each month – through phone, email, and in-person visits from faculty, staff, students, alumni, and the general public. There are certain questions that come up pretty often: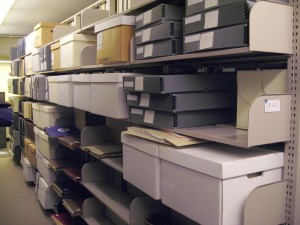 1. What can you tell me about my family member/ancestor who went to Lawrence?
This is the most frequently asked question around here. Family history researchers often contact the Archives looking for years of attendance, photos, and other biographical information pertaining to their ancestors. If the person in question attended in the 1800s, usually our only source of information is the course catalog, which listed all students in attendance annually from the first year of classes in 1849 through 1964. After the turn of the century, we can use yearbooks to find photographs and sometimes information about a student's studies and extracurricular activities. We have similar resources for Milwaukee-Downer.
2. What can you tell me about this other Lawrence-or-Milwaukee-Downer-related person?
For faculty or staff members (and some alumni) at Lawrence, our first place to look for information is our vertical file. This file has folders containing biographical information, newspaper clippings, and photographs for over 3,400 individuals! You can view and search this very long list here. The Milwaukee-Downer vertical people file is available here.
3. Where is The Rock?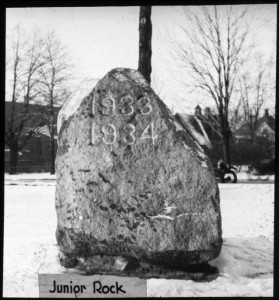 For those of you unfamiliar with this bit of Lawrence history, there is more information here and here. Alas, the current whereabouts of the Rock are unknown. Since it has been buried and unearthed years later once before, it's possible that another class has undertaken this stunt.
4. Was Main Hall a stop on the Underground Railroad?
Unfortunately, we have no documentary evidence suggesting that Main Hall was ever part of the Underground Railroad, and there have been too many renovations for physical evidence to remain. Abolitionist sentiment was pervasive on campus, due in part to the college's Methodist affiliation and the political leanings of its founders. Amos Lawrence was strongly in favor of abolition and was close friends with John Brown. He sent supplies and weapons  by boat through Appleton to Lawrence, Kansas. During the war, Main Hall served as an important meeting place for rallies and aid coordination for families of soldiers. But as for the Underground Railroad, we'll have to label this a myth.
5. Anything and everything trivia-related, come January.
We have an ever-growing collection of materials related to the Annual Great Midwest Trivia Contest, dating back to its start in 1966. This includes the original, scribbled and scrawled copies of every single question compiled going back to the mid-1990s.
Are there other things related to Lawrence or Milwaukee-Downer history that you're wondering about? You can visit the Archives in person any weekday afternoon, 1-5pm, or call or email anytime!