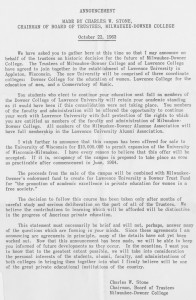 On Tuesday morning, October 22, 1963, Milwaukee-Downer College students, faculty, and staff gathered for a special convocation. The chairman of the Board of Trustees, Charles Stone, delivered a brief address. He announced: "The Trustees of Milwaukee-Downer College and of Lawrence College have agreed to join together in the establishment of Lawrence University in Appleton, Wisconsin." The Downer campus was to be sold to the University of Wisconsin-Milwaukee.
Students were shocked and many were in tears. Even the faculty had not been informed ahead of time. Reporters and photographers from The Milwaukee Journal were on hand, and they printed photos of Downer students receiving the news on the front page of the paper.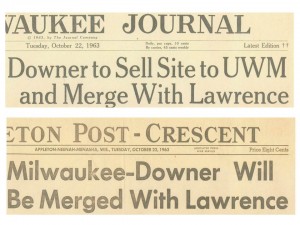 Meanwhile, Lawrence president Curtis Tarr (who had been formally installed only five days earlier) had gathered the faculty in Harper Hall to announce the consolidation. He told Lawrence students shortly thereafter. The press release was sent out to the papers and radio stations at the same time as the meetings, and the news dominated the headlines in both Milwaukee and Appleton.
This announcement was the first step in the consolidation process that was carried out in less than a year. For many, especially Downer students, faculty, and staff, it was a traumatic beginning.
But this year, we will commemorate and celebrate fifty years of "strength through union," as a contemporary publication put it. The joining of Lawrence College and Milwaukee-Downer College created Lawrence University, and this shared history is reflected in our campus, our traditions, our alumni, and our mission today.
For more information about Milwaukee-Downer College and the consolidation with Lawrence, explore Milwaukee-Downer  written and oral histories or visit the Archives.