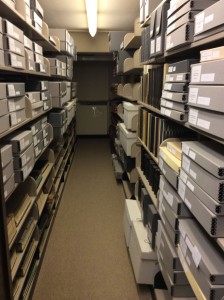 We've been working hard on our Milwaukee-Downer College records and manuscript collections in the Archives since last spring. As of this week, all of these collections have been fully processed! What does this mean? Close to a full aisle of material (almost 200 boxes, plus 300 bound volumes) documenting the administration, operations, faculty, curriculum, student life, and alumnae of Milwaukee-Downer College, a leading Midwestern women's college from 1895 to 1964 and a proud part of Lawrence University's heritage. Archives staff and students have arranged and re-housed the collections and written collection guides to enhance access:
– Milwaukee-Downer College Records, 1848-2008 – the largest subset of the collections, containing records that were transferred to Lawrence with the consolidation in 1964 as well as records documenting alumnae activities since the consolidation
– Milwaukee-Downer College People Files, 1850-1964 – files documenting people associated with Milwaukee-Downer College
– Milwaukee-Downer College Subject Files, 1886-1964 – files documenting subjects associated with Milwaukee-Downer College, including athletics, campus buildings, and student activities
– Milwaukee-Downer College Manuscripts – all of the collections of personal papers or scrapbooks that have been donated to the Archives by alumnae and others since the consolidation
All of these materials are open for research (except where noted otherwise in the guides). To spend some quality time with them, stop in during our open hours (M-F, 1-5pm). We're thrilled to have such a large and rich body of materials accessible for anyone who wants to learn more about Milwaukee-Downer.
But we're not resting on our laurels: a guide to the Milwaukee-Downer College artifacts is underway, and a digital collection of the student newspaper from 1945 to 1964 will be available in the next few months.