If there is any upside to the epic oil spill down in the Gulf (and heading this way), it is that it provided a learning opportunity for my courses in Political Economy of Regulation (Econ 240) and Environmental Economics (Econ 280).  I'll start with the benefit-cost analysis (I actually started this yesterday and have touched on it here and here), and I will try to get to the regulations next week.
The Environmental Economics class looked at the benefit-cost analysis of offshore drilling described in the Draft Proposed Outer Continental Shelf (OCS) Oil and Gas Leasing Program 2010–2015. The document covered areas in Alaska, California, and the Gulf. The students looked at the benefits and costs of expanding offshore production, including the quantification of the environmental (external) costs.
The results deviated little from the extant program from 2007-2012 (see table), where the quantified benefits were far higher than production and external costs. Most of the benefits manifest themselves in the difference between oil and gas prices and the production costs (net economic value in the table). The producers take a chunk of profit and the federal government takes a 12.5% gross production royalty that it redistributes to the states.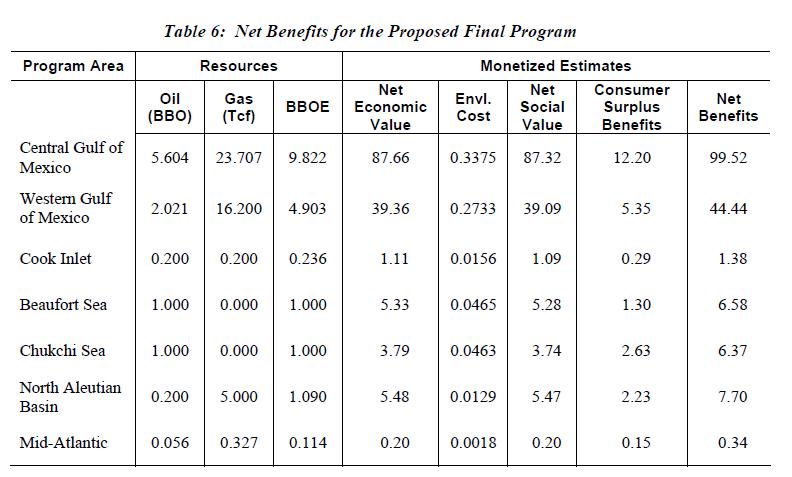 The net benefits calculation is the consumer surplus and producer profits less the environmental costs. As can be seen in the table, the values are dominated by producer profits (roughly equivalent to "net economic value"). The analysis assumes $46/b oil prices, $7 / McF natural gas prices, and a 7% real discount rate.
Continue reading An Extended Post on the Benefits and Costs of Oil and Gas Drilling