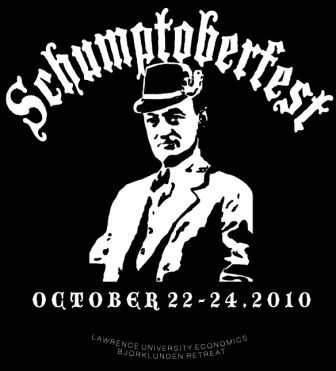 Schumptoberfest 2012 is taking place this weekend on the Grinnell College campus.  We started this back in 2010 with a group of students as a Bjorklunden retreat, and for the past two years the Associated Colleges of the Midwest has provided funding to bring in faculty and students to talk about innovation and entrepreneurship in the liberal arts curriculum.
This year's keynote comes from Columbia Business School's Ray Horton, "The Utility of Schumpeter's Conception of Entrepreneurship Then and Now."  It will be interesting to hear what he has to day.
Lawrence will also have a solid presence.  The Flickey guys will be talking about the fruits of the Pursuit of Innovation course, which was the subject of a nice This is Lawrence feature.   Babajide Ademola and Patrick Pylvainen will also talk about their work looking at innovation & entrepreneurship in post-conflict Sierra Leone.  You can learn about Professor Skran's work there in this This is Lawrence video.
You can read  more at the LU homepage or on the Grinnell homepage.