Two-time Grammy Award-winner Christian McBride and his acoustic jazz quintet Inside Straight performs Friday, May 14 at 8 p.m. in the Lawrence Memorial Chapel in the final concert of Lawrence University's 2009-2010 Jazz Series.
Tickets, at $20-22 for adults, $17-19 for seniors and $15-17 for students, are available through the Lawrence Box Office, 920-832-6749.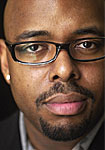 Hailed as "perhaps the most exciting jazz bass player since Ray Brown" by All About Jazz, McBride has appeared on more than 250 albums, including five of his own releases. Playing both acoustic and electric bass, McBride has accompanied scores of jazz luminaries, among them Chick Corea, Herbie Hancock and Diana Krall.
Over the past two decades, McBride has been one of the most requested sidemen in the music business, touring with such renowned jazz musicians and their bands as Roy Hargrove and Pat Metheney.
Assistant Professor of Music Mark Urness, who teaches bass in the Lawrence conservatory of music, said McBride has been at the forefront of jazz bass playing for nearly two decades.
"His stunning virtuosity is combined with an intense rhythmic feel and a rare melodic gift," said Urness. "He epitomizes the modern jazz artist by combining tradition with innovation."
Named "Hot Jazz Artist" of 1992 by Rolling Stone magazine, McBride won Grammy Awards in 2009 and 2006 in the best jazz instrumental album, individual or group category. He was named co-director of The Jazz Museum in Harlem in 2005 and recently finished a four-year appointment as creative chair for jazz for the Los Angeles Philharmonic.  As a composer, McBride created "Bluesin' in Alphabet City," a commissioned work performed by Wynton Marsalis and the Lincoln Center Jazz Orchestra.
Inside Straight, McBride's new quintet, recently released its debut album "Kind of Brown," a collection of hard swing-to-bluesy groove tunes. The international cultural criticism magazine Pop Matters praised Inside Straight for creating "delicious music" and described the album as "hot. It puts a little jump in your step."
"Inside Straight is a traditional acoustic jazz ensemble with innovative compositions and improvisations," said Urness. "The band draws influence not only from classic jazz, but also from modern funk and hip-hop artists."
Inside Straight features Eric Scott Reed on piano, Steve Wilson on saxophone, Warren Wolf, Jr. on vibraphone and Carl Allen on drums.