The seven-member ensemble Mnozil Brass brings its unique blend of music virtuosity and theatrical wit to the Lawrence Memorial Chapel Wednesday, March 29 in a Lawrence University Artist Series performance.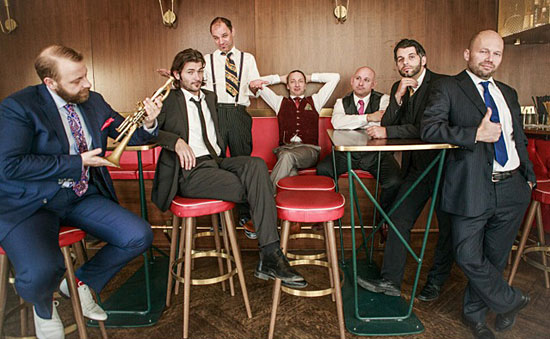 Tickets, at $25-30 for adults, $20-25 for seniors, $18-20 for students, are available online through the Lawrence Box Office or by calling 920-832-6749.
Since their first performances in 1992 at open mic events in a Vienna, Austria, tavern, the seven graduates of the renowned Vienna College of Music have established themselves as one of the world's premiere brass ensembles…with a twist.
Presented with a generous dollop of Austrian-style humor, their repertoire spans the musical spectrum from Bach to Zappa, from the classics to new movie music. A concert program may include everything from Austrian drinking and folk songs to jazz and pop, new arrangements of classical works and some 20th-century German schlager pieces thrown in for good measure. Coupled with choreographed theater, dance moves and some slapstick antics have led to descriptions as "the Monty Python of the musical world."
In his review of a 2016 performance, Jonathan Blumhofer wrote "Whether they're lampooning scenes from '2001: A Space Odyssey,' leading the house in the Macarena or providing a lengthy commentary on the night's proceedi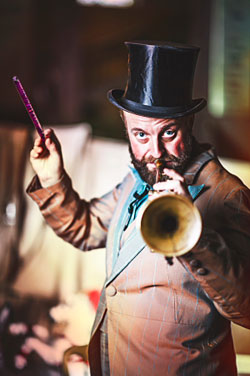 ngs in Spanish, the Mnozil's are about as zany as they come. But they're also among the most stellar brass players you might hope to encounter."
Marty Erickson, who teaches tuba at Lawrence, calls their visit to Appleton "a must-see event."
"Not only is this group considered the finest brass ensemble of its kind in the world, they do it all seemingly effortlessly with great fun," said Erickson. "Imagine hearing something by Debussy followed by Queen's 'Bohemian Rhapsody' or an opera excerpt followed by Stevie Wonder's 'Superstition.' They are truly a hoot."
Featuring three trumpet players —Thomas Gansch, Robert Rother and Roman Rindberger — three trombonists —Gerhard Füssl, Zoltan Kiss and Leonhard Paul — and one tuba player —Wilfried Branstoetter — Mnozil Brass has recorded eight albums and six DVDs. They've collaborated on three operetta and opera productions and composed and recorded the music for the 2006 film "Freundschaft."
The ensemble has been nominated for the Amadeus Austrian Music Award and was the recipient of the prestigious Salzburger Stier Cabaret Prize in 2006.
About Lawrence University
Founded in 1847, Lawrence University uniquely integrates a college of liberal arts and sciences with a nationally recognized conservatory of music, both devoted exclusively to undergraduate education. It was selected for inclusion in the book "Colleges That Change Lives: 40 Schools That Will Change the Way You Think About College."  Engaged learning, the development of multiple interests and community outreach are central to the Lawrence experience. Lawrence draws its 1,500 students from nearly every state and more than 50 countries.