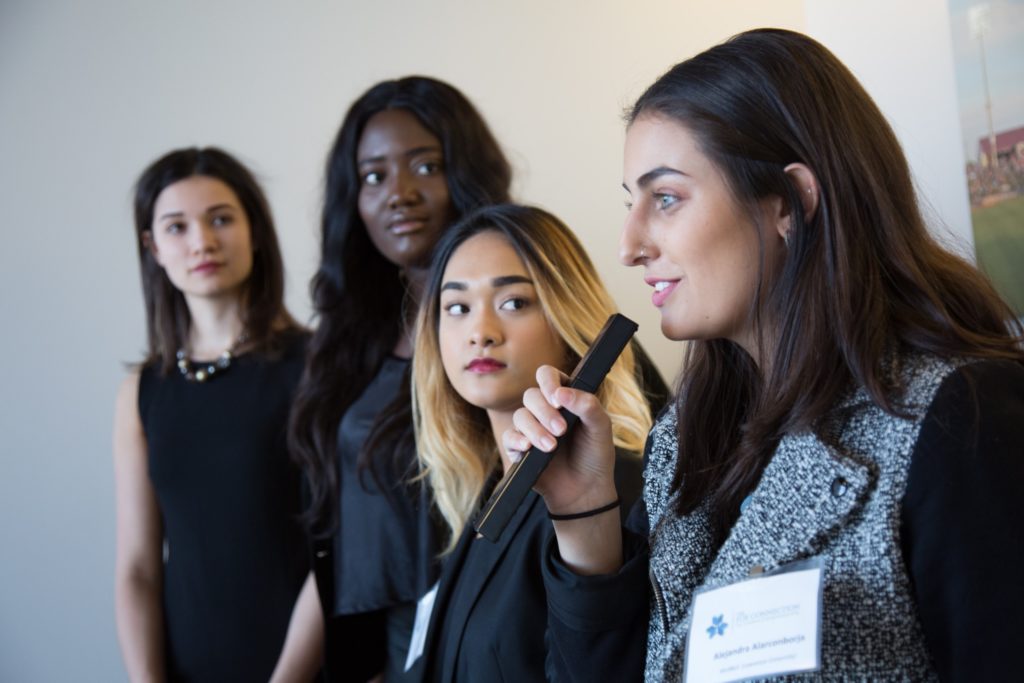 Story by Ed Berthiaume / Communications
There is an entrepreneurial spirit at Lawrence University, weaved into the liberal arts education in everything from science programs to music instruction.
So, perhaps it should come as no surprise that Lawrence students have come away with the title — and the money — in each of the first two installments of The Pitch, a "Shark Tank"-styled competition involving colleges and universities in east-central Wisconsin.
On Thursday, Lawrence will aim for a three-peat.
Students from six schools will deliver their pitches for innovative product ideas to a panel of judges — and in front of a live audience — at 4 p.m. at Titletown Tech in Green Bay. Joining Lawrence students will be entrants from the University of Wisconsin-Oshkosh, the University of Wisconsin-Green Bay, St. Norbert College, Fox Valley Technical College and Moraine Park Technical College.
Each school will have two entries. For Lawrence, Hamza Ehsan '20 will pitch EVSmart while Emma Liu '19 and Katie Kitzinger '20 will pitch Jetsetter's Closet.
EVSmart involves the creation of an app that would identify and facilitate the use of charging stations for electric cars. Jetsetter's Closet would facilitate the rental of stylish clothing for world travelers.
They emerged as Lawrence finalists following a round of competition on campus. Similar competitions were held at each of the participating schools. The students who advanced will work with a judge in the lead-up to Thursday's regional competition to better hone their presentations.
Lawrence students have come out on top each of the past two years. First it was a trio of 2017 graduates, Ryan Eardley, Felix Henriksson and Mattias Soederqvist, who successfully pitched their idea for Tracr, a forensic accounting software product. Then last year, Ayomide Akinyosoye, Alejandra Alarcon, Nikki Payne and Alfiza Urmanova took top honors with their idea for WellBell, an innovative wristband device with an S.O.S. button that can be used to send notifications for help, be it an assault or other point of danger or a medical crisis.
The WellBell students, all LU seniors now, are actively developing their product and working with mentors, while the Tracr project is on hold but could be reactivated in the future, said Gary Vaughan, coordinator of Lawrence's Innovation and Entrepreneurship program and a lecturer of economics. The finalists behind Tracr have graduated and now have jobs in finance around the globe — Eardley was hired as director of innovation at Nicolet Bank, a primary sponsor of The Pitch, while Henriksson is working as an analyst with the international markets arm of a bank and Soederqvist is in management consulting.
This year's contestants will be competing for more than $50,000 in cash and in-kind services — with first place receiving $10,000 cash and $15,000 worth of in-kind services, second place getting $7,500 cash plus in-kind services and third place earning $5,000 cash plus in-kind services.
The panel of judges come from the business community across the region.
Lawrence's deep and successful dive into The Pitch competition comes in large part because of the investment the university has made in its Innovation and Entrepreneurship program. While Lawrence doesn't have a business school, it does provide an I&E concentration, which spans all disciplines and can be an important piece of any student's transcript. In addition to a myriad of class offerings, Lawrence has a student club — LUCIE (Lawrence University Club of Innovation and Entrepreneurship) — that fosters the innovation mentality. And students across multiple disciplines get hands-on entrepreneurial experience with such community projects as Startup Theater, the Rabbit Gallery, Entrepreneurial Musician and KidsGive.
"About half of the students studying I&E are from economics, but the other half are from all over," said Claudena Skran, the Edwin & Ruth West Professor of Economics and Social Science and professor of government. "They're from art, they're from music, they're from government."
She and other faculty members across the disciplines work closely with Vaughan to facilitate that entrepreneurial mindset as students make their way toward graduation and the job market.
More details on Lawrence's Innovation and Entrepreneurship program here
While the I&E program has shown its mettle on a daily basis in recent years, the school's early success in The Pitch has put an exclamation point on that, Vaughan said.
"We pitch against MBA students, and we've done really, really well," he said.
Developing skills in The Pitch isn't just about launching a new product idea. It's also about learning how to present yourself when you jump into the job market for the first time after graduation.
"That is its own pitch," Vaughan said.
Ed Berthiaume is director of public information at Lawrence University. Email: ed.c.berthiaume@lawrence.edu