The musical mastery of pianist Richard Goode returns to the Lawrence Memorial Chapel Friday, Oct. 21 at 8 p.m in a Lawrence University Artists Series concert. Goode's appearance marks his third performance at Lawrence and first since 2002.
Tickets, at $22-20 for adults, $19-17 for seniors and $17-15 for students, are available through the Lawrence Box Office in the Music-Drama Center, 420 E. College Ave., Appleton or by calling 920-832-6749.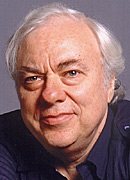 Acknowledged as one of today's master musicians for the tremendous emotional power, depth and sensitivity of his music, the New York City native is renowned for his interpretations of Bach, Beethoven, Chopin, Mozart and Schubert. Goode, 68, probes the inner reaches of the works he performs, infusing every measure with the utmost expressivity. His musicianship combines boldness of the mind with depth of the heart.
"This is some of the most stunningly beautiful piano playing in the world today," said Professor of Music Catherine Kausky, who teaches piano in the Lawrence conservatory, of Goode. "Impeccable sound, control and a sort of caring about every note that one rarely encounters. This is completely honest and committed music-making at its best."
According to the New York Times, "It is virtually impossible to walk away from one of Mr. Goode's recitals without the sense of having gained some new insight, subtly or otherwise, into the works he played or about pianism itself."
His discography includes more than two dozen recordings, including Mozart's solo works and concerti with the Orpheus Chamber Orchestra as well as solo and chamber works of Brahms, Chopin, Schubert and Schumann, among others. He was the first American-born pianist to record the complete Beethoven Sonatas, which earned him a Grammy Award nomination.
Goode has appeared with many of the world's greatest orchestras — Boston Symphony Orchestra, Chicago Symphony, San Francisco Symphony, New York Philharmonic, Toronto Symphony, Orchestre de Paris and the Vienna Symphony among then — and has been heard throughout Germany in sold-out concerts with the Academy of St. Martin-in-the-Fields.
He was presented the first Jean Gimbel Lane Prize in Piano Performance in 2006, an award that honor pianists who have achieved the highest levels of national and international recognition and earned a Grammy Award in 1982 for Best Chamber Music Performance with clarinetist Richard Stoltzman.
Following his Friday evening concert, Goode is generously conducting a master class at 10 a.m. and a lecture-recital at 3 p.m. on Saturday. Both events will be held in the Lawrence Memorial Chapel.
Founded in 1847, Lawrence University uniquely integrates a college of liberal arts and sciences with a world-class conservatory of music, both devoted exclusively to undergraduate education. Ranked among America's best colleges, it was selected for inclusion in the book "Colleges That Change Lives: 40 Schools That Will Change the Way You Think About College." Individualized learning, the development of multiple interests and community engagement are central to the Lawrence experience. Lawrence draws its 1,520 students from 44 states and 56 countries.