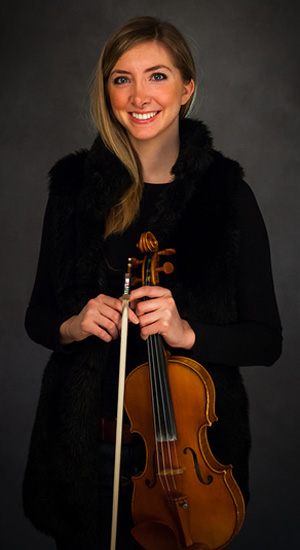 Martha McDonnell is going to miss a seminal moment in her life: her upcoming college graduation ceremony.
And she has musical icon Sting to "thank" for her absence.
The Lawrence University senior and serious fiddler from Wayne, Ill., won't be able to personally accept her Bachelor of Music diploma at commencement on June 15. Instead, she will be busy performing as a hand-selected member of the pit orchestra for the world premiere run of Sting's new musical "The Last Ship," which opens June 10 at downtown Chicago's Bank of America Theatre.
The production is loosely based on the 16-time Grammy Award winner's ship-building hometown of Wallsend, England. Directed by two-time Tony Award winner Joe Mantello, "The Last Ship" is scheduled for a 38-show run in Chicago before heading to Broadway's Neil Simon Theatre in late September.
Thanks to a recommendation from a Scottish fiddle-playing friend of hers, McDonnell was extended one of a limited number of invitations to audition for a chair in the show's orchestra.
"Going into it, I was very anxious because it wasn't like any audition I've ever done and I really had no idea what to expect." McDonnell said of the audition conducted at Chicago's famed Steppenwolf Theatre. "Sting actually hadn't shown up yet, but he came in just as I sat down to start playing.
"The audition was really casual and laid-back. Sting played his guitar and sang while the show's music director played the piano," McDonnell added. "I realized it was just a jam session like I do all the time with my band and at home, so I felt really comfortable. There were a few other musicians auditioning on different instruments as well. We were this little chamber group playing with Sting. It was really fun."
No Notes, Just Chords
What made the audition unique was the fact McDonnell wasn't given a written-out score to play. They provided her charts just with chords, no notes.
"Basically I had to listen to the recordings and write most of my own part," McDonnell explained. "That was a really cool experience because I feel like Sting and his music director got to hear my musicality, my musical thoughts more than just how well I could play what they gave me."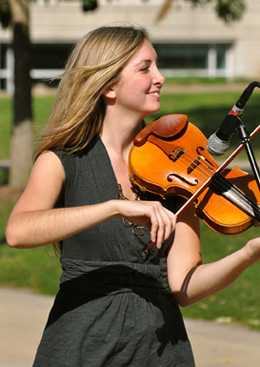 McDonnell is currently working with Sting and his music director while writing her own fiddle part for the show.
As part of the audition, a personal request from Sting provided an opportunity for McDonnell to showcase her solo skills. She dazzled him with a pair of traditional Scottish fiddle tunes: "Pigeon on the Gate" and "Dinky's Reel."
"They seemed to like those," said McDonnell, who began playing classical violin at the age of six, but had an epiphany the first time she played  "Boilin' Them Cabbages Down."
As her musicianship has evolved, McDonnell has employed the discipline and technique of her classical training to take her fiddling to the next level. Conversely, fiddle music also has added depth and joy to her classical performances.
"I realized early on in my playing that these two worlds rarely intersect," said McDonnell, who plays violin in the Lawrence Symphony Orchestra. "Particularly in my formative years of classical training, I was advised to quit my fiddling 'hobby,' as it would only hold me back from becoming a 'real' concert violinist. Luckily, my passion for fiddling endured and I have worked to bridge the gap between these two worlds I inhabit."
Founder of the Involuntary String Band
An important part of her fiddle world includes the Involuntary String Band, a popular folk fusion group that McDonnell founded in 2012. The four-member band grew out of a Lawrence class, the Entrepreneurial Musician, taught by Brian Pertl, dean of the Lawrence Conservatory of Music.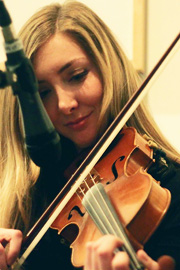 "Martha is a fine violinist, amazing fiddler and wonderful person," said Pertl. "I first saw her burning passion for fiddling in my Entrepreneurial Musician class. Her joyful nature comes out in everything she does. I am quite sure her gig with Sting will be just the first step in a long and exciting musical journey."
In its short existence, McDonnell's Involuntary String Band has already performed for both Wisconsin Public Radio and Wisconsin Public Television, wowed the audience as the musical guest for a Lawrence convocation last spring, played in Appleton's inaugural Mile of Music festival last August and most recently performed a bluegrass concerto with the Lawrence Symphony Orchestra.
"I want to introduce the folk music I love so much to other classical and non-classical musicians in the hope they will break the musical boundaries we have been given," said McDonnell. "I want to not only mix American styles of folk music, but also to merge them with international fiddling styles and introduce them to a new audience."
As for whether McDonnell will accompany "The Last Ship" on to New York's Great White Way later this year, that is still to be determined.
"I think anything's possible, but that hasn't been brought up yet," said McDonnell. "I am hoping I can use this experience as a launching pad for other opportunities."
About Lawrence University
Founded in 1847, Lawrence University uniquely integrates a college of liberal arts and sciences with a nationally recognized conservatory of music, both devoted exclusively to undergraduate education. It was selected for inclusion in the Fiske Guide to Colleges 2014 and the book "Colleges That Change Lives: 40 Schools That Will Change the Way You Think About College." Individualized learning, the development of multiple interests and community engagement are central to the Lawrence experience. Lawrence draws its 1,500 students from nearly every state and more than 50 countries.