Strengthening their foreign language skills will be on the top of three Lawrence University students' to-do lists this summer thanks to the U.S. Department of State.
Senior Mikaela, Stillwater, Minn., and juniors Jonathan Rubin, Marblehead, Mass., and Heidi Arnold, Oswego, Ill., each have been awarded a Critical Language Scholarship (CLS) for an intensive overseas language and cultural immersion program.
Marget and Rubin both will travel to Malang, Indonesia on the island of Java for eight weeks of language instruction in Bahasa Indonesian and structured cultural enrichment experiences. Arnold will spend most of her summer living with a host family in Bishkek, Kyrgyzstan, as part of a Russian language program.
Launched in 2006 by the U.S. Department of State's Bureau of Educational and Cultural Affairs, the CLS program is designed to expand the number of Americans studying and mastering foreign languages that are critical to national security and economic prosperity.
Marget, Rubin and Arnold were among 580 CLS recipients for 2018 selected from 6,000 applicants nationally. Since 2010, seven Lawrence students have received Critical Language Scholarships.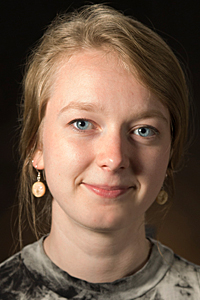 For Marget, a cello performance major, the CLS will provide a return trip to Indonesia. A member of Lawrence's gamelan ensemble — Gamelan Cahaya Asri — she spent two weeks in Bali learning the Balinese rebab, a string instrument somewhat similar to the cello.
"I did a whole project on that instrument, the social context within Bali and how the instrument functions within the musical ensemble. That really inspired me to learn the Indonesian language and come back," said Marget, who described her CLS selection as "utter surprise."
While she picked up pieces of Balinese during her first visit, Bahasa Indonesian is the country's national language, which is what she will be studying this summer.
"It will be helpful to have been there before and knowing at least Balinese culture a bit," said Marget. "I haven't had much time to really get dig into Bahasa Indonesian yet, so I'm really excited to get there and learn."
Marget, who will graduate June 10, hopes to eventually pursue graduate studies in ethnomusicology.
"Having a basis in a language I've been studying would be really helpful, not only for grad school applications, but also for personal development so that I can communicate better with the people I will be working with musically. I've done a lot with the Indonesian music and   having the language skills to be able to further study Indonesian music would be amazing. I'm really excited to be able to make more connections with people across the world."
Sonja Downing, associate professor of ethnomusicology at Lawrence, who has worked closely with her, said she was "thrilled" Marget will be able to continue studying the Indonesian language,
"Mikeala's important study on the under-researched Balinese rebab this past year for her Senior Experience and honors project, including ethnographic research and taking lessons during a to Bali, along with her experiences playing in the Balinese gamelan ensemble has sparked her interest in Balinese music and musical instruments, as well as in the field of ethnomusicology," said Downing. "I expect this CLS opportunity to deepen her scholarly and musical questions and engagement with Indonesian performing arts and culture."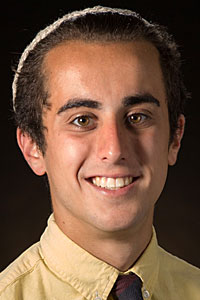 Rubin, a religious studies major, will join Marget in Malang on the same program. His focus on learning Bahasa Indonesian is to enhance his interests in studying how religion and globalization have shaped the country.
"I'm interested in how theological belief systems and moral paradigms are derived from religious texts, and how they've changed and developed over time," said Rubin, who spent last fall studying abroad in Pune, India. "Indonesia is a perfect place to study this. It's the world's largest Muslim majority country, but the first Muslim there was Chinese. Beyond Islam, Christianity, Buddhism, Animism and Hinduism all have established some roots there. That's a lot of ideas coming into one place."
While Marget had some prior exposure to the language, Rubin has been preparing for his summer in Java by self-teaching himself Bahasa Indonesian with the help of online programs.
"It's just a beginner program because so few people outside the country speak Indonesian," said Rubin, who began his language study just a few months ago. "When I took I took my OPI (oral proficiency interview) over the phone, I did well enough that the woman said she was surprised I had only taught myself."
Rubin's long-range goals are to earn a doctorate in theology and globalization and he sees being able to read Indonesian as huge advantage.
"Indonesia is one of these areas where I'm studying this specific sociological function of theology. I'm interested in the way the whole idea of religion and the way we apply theology, which is one of the largest existing literarily canon of all time, and how we apply that today, has changed because of globalization and how interconnected the world has become. I hope I can write about the language and globalization as really a history of applied theology someday."
Martyn Smith, associate professor of religious studies, praised Rubin as "one of the most ambitious students" he has seen in his 12 years on the Lawrence faculty.
"He has taken advantage of many opportunities to travel and learn by seeing the world," said Smith, citing trips to Dearborn, Mich., to see immigrant communities, visit mosques and speak with religious leaders, Morocco and Sierra Leone, Jamaica, and his study-abroad term in India. "The courses he has taken in religious studies and other disciplines have all tended toward expanding his view of the world and global challenges. The CLS grant will allow him to continue what he has been doing: to get a global perspective on the challenges that now face us."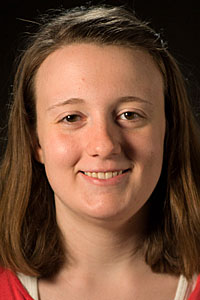 Arnold, a German and Russian major, also will be heading to Asia, but considerably farther north. She will spend eight weeks in the Kyrgyzstan capital of Bishkek, a city of nearly one million near the border of Kazakhstan.
Her choice of majors may have been influenced by her upbringing: she grew up with a German father and a Russian mother, who graduated from Lawrence herself.
"They were always speaking other languages when they didn't want me to know what was going on," said Arnold of her life at home. "It sparked my interest. Now I love the language (Russian) and the culture. I want to get better at it so I can read books, understand the movies fully and speak fluently."
Arnold's scholarship is evidence of persistence. She applied for a CLS as a sophomore but went unrewarded. She applied again and this time was among the 2018 recipients.
"It's so important when you study a foreign language to get practical experience with native speakers," Arnold said of her retry.
While she still has one more year at Lawrence ahead of her, Arnold is contemplating career paths.
"I've considered becoming an immigration lawyer in some capacity or maybe working with international law in some way," said Arnold. "I would like to have a few years of practical experience, maybe working for the State Department or another government agency. Or an NGO, that would also work."
Peter John Thomas, one of Arnold's Russian professors, says she has "an ear for new lexicon and usage."
"For as long as I have known her, Heidi has planned to use her skills in Russian, Ukrainian, and German to research the cultural milieu of 'Russia Abroad,' especially the diaspora community in Germany following the Russian Revolution," said Thomas, associate professor of Russian studies. "This program offers her an excellent opportunity to develop the skills and knowledge she needs to pursue her research."
About Lawrence University
Founded in 1847, Lawrence University uniquely integrates a college of liberal arts and sciences with a nationally recognized conservatory of music, both devoted exclusively to undergraduate education. It was selected for inclusion in the book "Colleges That Change Lives: 40 Schools That Will Change the Way You Think About College."  Engaged learning, the development of multiple interests and community outreach are central to the Lawrence experience. Lawrence draws its 1,500 students from nearly every state and more than 50 countries.