Three members of the Lawrence University faculty have been granted tenure appointments and a fourth has been promoted to the rank of full professor by the college's Board of Trustees.
Kurt Krebsbach has been promoted from associate professor to full professor of computer science. Celia Barnes in the English department, Alison Guenther-Pal in the German department and Copeland Woodruff, director of opera studies and associate professor of music, have been granted tenure. Barnes and Guenther-Pal also were promoted from assistant to associate professor.
"I'm delighted to welcome a new faculty member to the elevated rank of professor and to congratulate our three newest tenured colleagues," said Catherine Gunther Kodat, provost and dean of the faculty. "Lawrence sets a high bar for faculty achievement, requiring demonstrated excellence in teaching, scholarship, creative activity and service. These faculty have enhanced our community immeasurably, introducing our students to new ideas and fresh perspectives on long established truths and enriching the intellectual and artistic life of the university. I look forward to working with them for many years to come."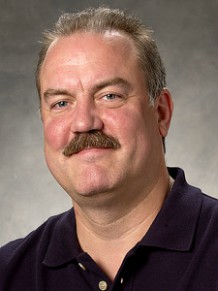 Krebsbach, whose research interests include artificial intelligence, multi-agent systems and functional programming, returned to Lawrence in 2002 as a faculty member, having earned his bachelor's degree from Lawrence as the university's first mathematics-computer science major.
He has made research presentations and technical reports at more than three dozen professional conferences in his career. A member of the Association for the Advancement of Artificial Intelligence since 1987, Krebsbach spent time in 2009 at the University of Edinburgh in Scotland as a Masters of Informatics Scholar.
Prior to joining the faculty, Krebsbach spent seven years as an artificial intelligence researcher at Honeywell Laboratories in Minneapolis. He also taught two years in the math and computer science department at Shippensburg University in Pennsylvania.
After graduating from Lawrence, Krebsbach earned a master's degree and a Ph.D. in computer science at the University of Minnesota.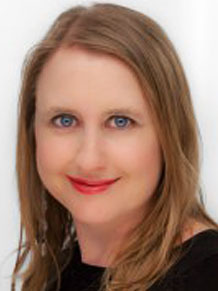 Barnes joined the Lawrence English department faculty in 2010 as a visiting assistant professor before receiving a tenure-track appointment the following year. Her scholarship focuses on how18th-century writers conceived of their own place in literary history. She is particularly interested in re-examining the familiar image of the professional author who writes alone and always with an eye to publication into one where writers and readers are actively and sociably engaged in an interactive process of creating text.
In addition to teaching courses such as "British Writers," Revolutionary 18th Century" and "Gender and Enlightenment," Barnes has collaborated with colleagues to team-teach the interdisciplinary English/physics course "Newtonian Lit: Chronicles of a Clockwork Universe" and the English/philosophy course "Enlightenment Selves."
Barnes directed an elementary composition program at Indiana University and spent a year on the faculty at California Lutheran University before coming to Lawrence. She graduated Phi Beta Kappa from The College of William and Mary with a bachelor's degree in English and earned a Ph.D. in English with a concentration in 18th-century British Literature from Indiana University.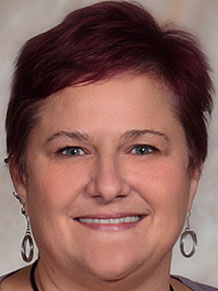 Guenther-Pal began her career at Lawrence in 2007, first with a three-year appointment in German and film studies through the university's Postdoctoral Fellows program, then as visiting assistant professor and finally as a tenure track assistant professor. In addition to teaching in the German and film studies programs, she also teaches courses in gender studies.
Her scholarship interests span German cinema, 20th-century German culture, feminist film theory, queer theory and popular culture, especially stardom and fandom. Her primary research focuses on the representation of homosexuality and queerness in cinematic, scientific, lay and literary texts during the Konrad Adenauer era of post-World War II Germany.
Guenther-Pal was honored with Lawrence's Young Teacher Award in recognition of "demonstrated excellence in the classroom and the promise of continued growth" in 2017 and was the 2015-16 recipient of the university's Mortar Board Award for Faculty Excellence.
She studied in Germany at the University of Göttingen and the Free University of Berlin before earning a bachelor's degree in biology and the University of California, Santa Cruz. She holds a master's degree and a Ph.D. in Germanic studies from the University of Minnesota.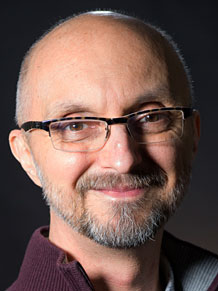 Woodruff was named Lawrence's first director of opera studies in 2014 after spending six years as co-director of opera activities at the University of Memphis. In addition to directing Lawrence's annual main stage opera production, Woodruff has launched a series of "micro-operas" that examine socially relevant issues and are performed at non-traditional locales. His first, "Expressions of Acceptance," featured 13 short operas simultaneously staged throughout the Fox Cities Performing Arts Center, including stairwells, bathrooms, the bar areas and even elevators. The production tied for third place in the 2015-16 National Opera Association's Division 1 Best Opera Production competition.
In 2016, his "Straight from the Hip," was performed at The Draw, a local art gallery. The production examined the issue of gun presence and gun awareness in the community through a series of nine mini-vignettes. His 2017 production, "Is That a Fact," explored facts, and possibly, their alternative-fact counterparts.
Woodruff's 2016 mainstage production, "The Beggar's Opera," was awarded first-place honors in by the National Opera Association. Under his direction, Lawrence also was recognized in 2015 with first-place honors in the undergraduate division of the Collegiate Opera Scenes competition and earned second-place honors in the NOA's Best Opera Production competition for "The Tender Land."
He earned a both a bachelor's and a master's degree in vocal performance from the University of South Carolina and a master's degree in stage directing for opera from Indiana University.
About Lawrence University
Founded in 1847, Lawrence University uniquely integrates a college of liberal arts and sciences with a nationally recognized conservatory of music, both devoted exclusively to undergraduate education. It was selected for inclusion in the book "Colleges That Change Lives: 40 Schools That Will Change the Way You Think About College."  Engaged learning, the development of multiple interests and community outreach are central to the Lawrence experience. Lawrence draws its 1,500 students from nearly every state and more than 50 countries.