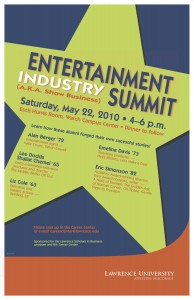 For those of you grousing about looking for the whens and wheres of the Lawrence Scholars in Business Entertainment Summit, you've come to the right place. It is today at 4 p.m. in the Hurvis Room of the Warch Campus Center. Dinner to follow at 6, space permitting.
This is the final LSB event of the year, and should appeal to folks of all stripes, from the economics majors to the Conservatory and Arts students.
Click the poster for the full report.