I spent the day yesterday at Beloit College, where the 2010 Miller Upton Forum is under way.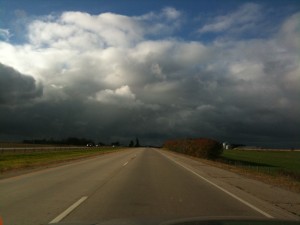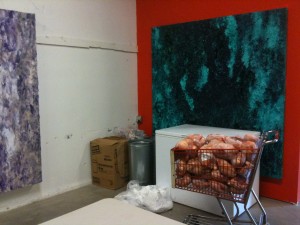 The weather was not ideal for driving across Wisconsin, but the unusual conditions produced some amazing scenery.Before the Forum began, I had a chance to catch up with a friend, Daniel Barolsky, who was a Postdoctoral Fellow at Lawrence during the first year of the Fellows program. We all know that the first crop of Fellows was the best. I came in the second year of the program as a Fellow, so Daniel and I overlapped two years at LU. Anyway, we sat down in the Bushel and Peck's, which is the center of activity in Beloit. It is a very interesting place–they have gourmet groceries, coffee, food, and ambience conducive to conversation. If you go, do stick to American coffee–that's definitely their forte. If you get their bottomless cup, you will end up going through the art gallery in the back, which leads to the restroom. Oh, and the frozen chickens are stored back there, too.
The Forum itself started with a panel on Entrepreneurship and the Liberal Arts. Our own Prof. Finkler presented as part of a distinguished panel, describing the great many things we do in the name of I&E at Lawrence. He started with an image of the "Creative Instruction" cup that I presented to Prof. Gerard to signify his Chief of Schumptoberfest title. Prof. Finkler then summarized Schumptoberfest, In Pursuit of Innovation, Entrepreneurship and Finance, Entrepreneurship in the Arts and Society, and the many ways we build innovation and entrepreneurship into our courses at LU (including the upcoming Economics of Innovation course–watch this space for updates!) He also talked about the center we are developing, the Lawrence Innovation Bridge, where student ventures will have a space to grow. Robyne Hart from the ACM's Chicago BES program also presented, outlining the indisputable advantages of being in Chicago, a hub of innovation and entrepreneurship. Consider making that a part of your Lawrence experience. From Wake Forest University, Betsy Gatewood presented on education, entrepreneurship and the liberal arts. She should know, being the Director of their Office of Entrepreneurship and Liberal Arts. They have an astounding variety of courses in all disciplines that relate to Entrepreneurship–take a look and let everyone at Lawrence know that you'd like to see more of that stuff here, too. Finally, Beloit's own Jerry Gustafson gave an eloquent, entertaining, erudite, evocative and overall excellent monologue on entrepreneurship and education. We'll see if we can make that available to you somehow. Finally Israel Kirzner himself reacted to what had been said. He thanked the panelists for all he had learned from their talks, pointing out that much of it was "refreshingly new" to him. Then he went on to make a distinction between studying the role of entrepreneurs in the economy (what he has done) and studying entrepreneurship, what makes an entrepreneur, etc.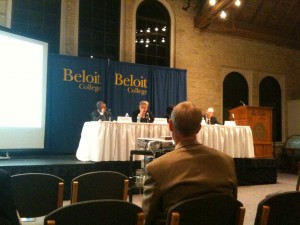 Prof. Kirzner reiterated that distinction in the evening panel discussion on his work. The participants were (from left to right in the pic) Roger Koppl, Deirdre McCloskey, Virgil Storr, and Israel Kirzner. Much was said about expertise, entrepreneurship, piracy and shipwrecking, but to me the most interesting comments came from McCloskey, who started by describing, in the way of a confessional, here transformation from Chicago-school Samuelsonian anti-entrepreneurship economist to a fan of Kirzner. Max U, the protagonist of price theory, is a sociopath, says McCloskey, and we need a much better model of Human Action than that. Of course she has done much to round out our view of human action in her several books, the most recent of which is Bourgeois Dignity: Why Economics Can't Explain the Modern World . She went on to reiterate the argument that some of us know from Schumptoberfest: Samuelsonian equilibrium economics has no place for the entrepreneur, because equilibrium looks at what happens after the entrepreneur's work is done. As Jerry Gustafson put it, "by the time the theorist arrives on the scene, the entrepreneur has vanished." There was much talk about what exactly Kirzner meant by "alertness." He himself put it as "knowing what is around the corner," and reminded us that by definition it cannot be taught. Apparently that comment (it is not possible to teach entrepreneurship) was made to him by Baumol many years ago. In response, Jerry Gustafson and others made the argument that neither is it possible to teach someone how to be a virtuoso violinist or pianist–but it certainly is possible to enhance one's innate abilities in those areas. So it is with entrepreneurship: the true entrepreneur is born, not made, but we can certainly enhance those aptitudes through education. Perhaps more importantly, having entrepreneurship programs opens students' minds (alerts them to) to the possibility of pursuing an entrepreneurial life. Gustafson added that having an entrepreneurship center like CELEB gives students an opportunity to try their hand at entrepreneurship in a safe place, where failure is not catastrophic and there is friendly help that makes starting a venture a learning experience. Our own dreams of the Lawrence Innovation Bridge go along these lines, too.
If you have any questions or comments about any of this stuff, click below and comment, or talk to us.