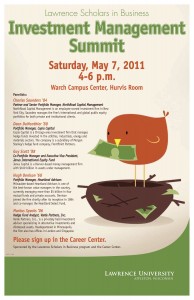 On the heels of a fascinating Chicago trip, we have the Investments Summit coming to Lawrence on Saturday, 4:00—6:00, in the Hurvis room. Click the poster for more details. Our panelists bring a variety of backgrounds and experiences:
Charles Saunders '84, Partner and Senior Portfolio Manager, NorthRoad Capital Management; Dean DuMonthier '88, Portfolio Manager, Copia Capital; Guy Scott '88, Co-Portfolio Manager and Executive Vice President, Janus International Equity Fund; Hugh Denison '68, Portfolio Manager, Heartland Advisors; Markus Specks '06, Hedge Fund Analyst, Varde Partners, Inc.
In addition to some of the basics of the investment trade, there will be a special focus on 
high energy prices
.
How do rising energy prices affect portfolio construction? Which companies suffer or benefit from rising energy prices?
This is a great opportunity to learn about issues that are of great interest today, from the perspectives of people who are participating in the markets and who see the most recent developments up-close. See you there!