Slate has an ingenious interactive tool that fills in your NCAA bracket based on various criteria, including the schools' academic rankings, distance to the area (nearer team wins), SAT scores (higher winning, inexplicably), and my personal favorite, dog friendliness.
But, as market economists, perhaps we should just let the market speak by looking at the most handsomely paid coaches!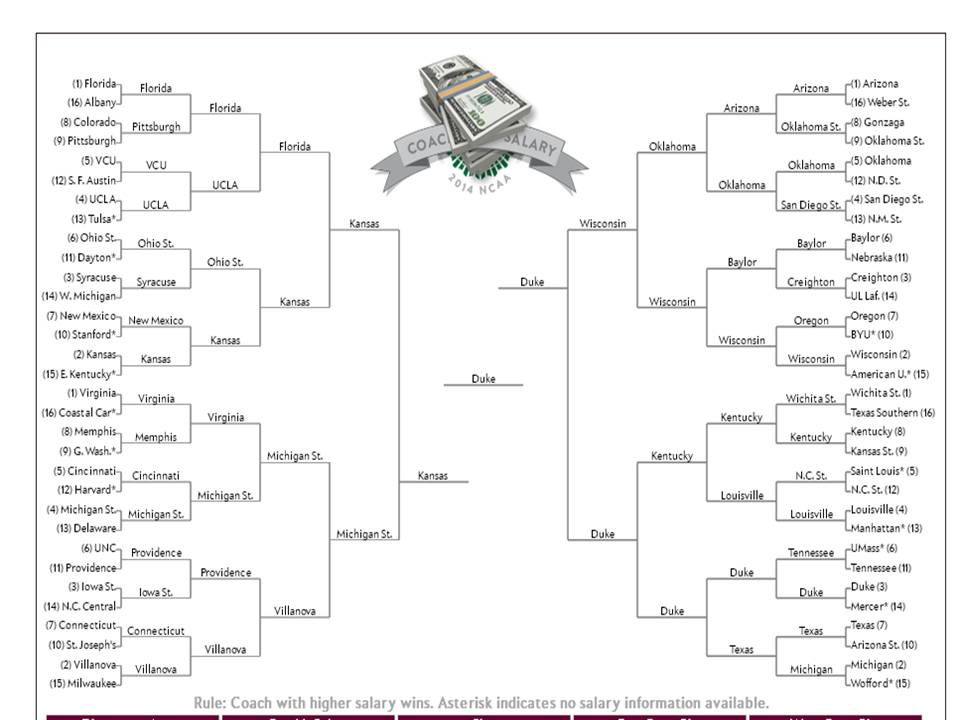 As you may know, the highest-paid state employee in most states is the head football coach at one of the public universities.  Here in Wisconsin, however, Madison's coach Bo Ryan has that distinction, which is good enough for the highest-paid coach in that region.  I'm guessing that Michigan State University coach Tom Izzo is the highest-paid employee in Michigan. 
Not surprisingly, these look a lot like many of the actual "expert" picks for much of the tournament, including Michigan State reaching the Final Four as a four seed.
Although I like the idea of picking based on coach salary — what better measure of quality than willingness to pay for a coach?! — one suspects we can actually measure performance, so I tend to lean on the Logistic Regression Markov Chain model to inform my picks.