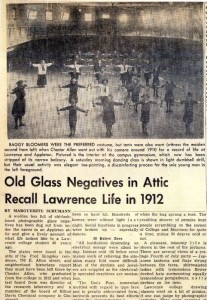 Materials in the Archives sometimes have odd lifecycles. Such has been the case for a set of glass plate negatives, recently rediscovered on a shelf in the back of the Archives. They represent a series of amateur photographs taken by Chester Allen, class of 1912, dating from his four years at Lawrence. They were found in an Appleton attic in 1953 and subsequently enjoyed a bit of fanfare.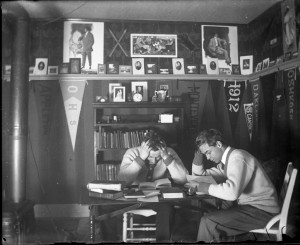 These negatives have sat in the Archives for almost 60 years since this discovery, still in their original, carefully labeled envelopes. Since our rediscovery a few months ago, the negatives have been re-housed for preservation purposes, and a digitization project is currently underway. The 70 photographs in this series represent a truly unique look at Lawrence through the eyes of a student 100 years ago, and we are very excited to be able to share them with a wider audience.
The digitization of the Chester Allen photographs is part of a larger effort to digitize all 250 of the original glass slides in our collections. The images will eventually be added to our digital collections database, so keep an eye out for future updates!