In addition to being Earth Day, today is the 75th anniversary of a significant event in Lawrence history. Following the end of classes on April 22nd, 1936, 400 of the 700 students enrolled at Lawrence set out to march down College Avenue for a Peace Parade. They were marching in solidarity with students from college campuses around the country, who had formed anti-war mock organizations such as the "Veterans of Future Wars" and the "Association of Gold Star Mothers of Veterans of Future Wars."  Though the leader of the march had initially secured permission from the Appleton Police Department, the police chief later changed his mind and forbade them from leaving campus. The paraders marched around campus with banners and baby buggies, and when they reached the corner of College and Drew, a few marched on. An April 24th, 1936 Lawrentian article describes what happened next: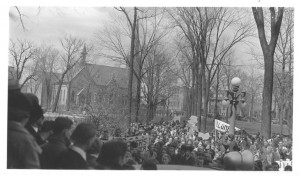 " Appleton police climaxed the Lawrence Veterans of Future Wars Peace demonstration when an officer seized Albert Haak, former Wauwatosa High football player, by the shoulder and clubbed him on the head. Students rushed to the aid of Haak, who collapsed as he was knocked out…The strong arm of the Appleton law left its mark on at least four students and the minds of the faculty and towns people as the police force bore down on the order prohibiting a downtown parade of the local Viking Post, No. 815, Veterans of Future Wars."
The incident received national attention as one of many similar demonstrations around the country. The Lawrentian describes students "huddled around radios…to hear the account of the student strike against war at Yale, Harvard, Princeton, and 'small Lawrence College' in Appleton." The faculty, President Wriston, and the Board of Trustees unanimously denounced the "grossly provocative" actions of the Appleton police. In an era not typically associated with student protest, this event stands out as a showing of Lawrence support for a larger student movement as well as an episode that united the Lawrence community.