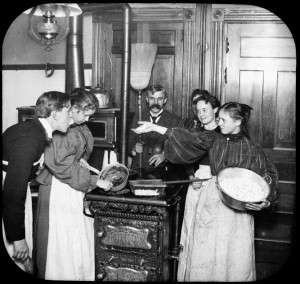 Announcing the winner of last week's photo caption contest: Security Officer Michael Beaupre, with his elegantly simple caption: "Cooking 101: Have the girls make it!" Michael will be receiving a $10 gift certificate for Muncheez Pizza.
Honorable mentions:
Aubrey Lotz, for her caption: "Little did the rest of the group know, Bushy Mustache Man was a witch and he was going to turn them into newts."
Antoinette Powell, for her caption: "The first multidisciplinary area of study at Lawrence: Chemistry (cooking I-don't-know-what), Athletics (popcorn toss), and Building Maintenance."
We had some tough choices to make among the submitted captions. Thanks for all of your entries!
This week's contest on facebook for Best Facial Hair in 19th-century Lawrence history seems to have a clear front-runner, but we'll hold off on making the official call until Friday, just in case there is a surge of support for another candidate.