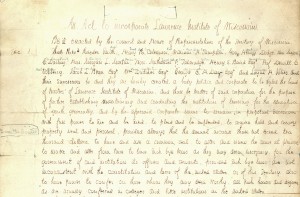 On January 15, 1847, the Territorial Legislature signed "An Act to Incorporate Lawrence Institute of Wisconsin." It was the third institution for higher-education to be established in the territory of Wisconsin, after Carroll College and Beloit College.  Amos Adams Lawrence of Boston had offered $10,000 for the establishment of a Methodist institution in the vicinity of De Pere, where he owned some land, and Wisconsin Methodists agreed to match the sum. Lawrence's agent Reeder Smith, Rev. Henry R. Colman, and William Harkness Sampson assisted a committee in drafting the charter, based largely on charters for similar institutions at the time. The LU Archives has two copies of this charter – a manuscript copy and a photostatic copy of the original, which is located in Madison.
The signing of the charter was the first step in the difficult process of establishing a college on the frontier. There was land to be purchased and cleared, funds to be secured, a building to be raised, instructors to be hired, and students to be sought. The city of Appleton did not yet exist. Classes at Lawrence began almost three years after the charter signing, on November 12, 1849. During the earliest years, Lawrence operated only as a preparatory school, educating students at the secondary level until a cohort was ready to begin college-level work. Thus, the first class of college graduates (four men and three women) graduated in 1857.
For more detailed information on the founding and early years of the university, contact or visit the Archives – or check out Charles Breunig's book, A Great and Good Work: A History of Lawrence University, 1847-1964. Happy Founders Day!