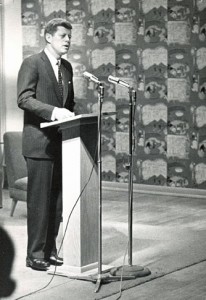 The Archives recently received a reference question about the history of presidential candidate visits to Lawrence. After the announcement of G.O.P. candidate Mitt Romney's appearance at LU tomorrow afternoon, we thought we'd share what we turned up (with the important caveat that this was not an exhaustive search, so there may be several missing from this list):
Wendell Willkie visited Lawrence on March 21, 1944
John F. Kennedy visited on March 11, 1960, and spoke in Riverview Lounge
Eugene McCarthy visited on March 15, 1968
Henry Jackson visited on February 23, 1972
Joan Mondale (campaigning for Walter) visited on October 24, 1984, and spoke in Riverview Lounge
George Bush visited on March 29, 1988 and spoke in the Chapel
John Kerry visited on October 15, 2004 and spoke in front of Alexander Gym
Many other candidates have visited the Fox Cities area over the years, and Lawrence students have often participated through coverage in the Lawrentian, protests, and showings of support. The Archives has photographs and newspaper articles related to all of the above visits – if you're curious, stop by any weekday afternoon to take a look.