As summer draws to a close, we hope you have all enjoyed a good balance of productivity and fun. This summer has certainly been a productive one in the Archives! We have processed several new collections that are open for research.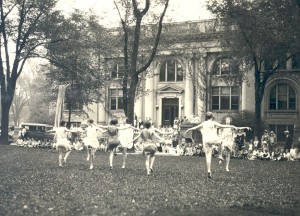 Colman Family Collection, 1853-1988: materials related to several members of the Colman family, including Henry Root Colman, Henry Colman, and Lucinda Darling Colman. The bulk of the collection consists of Lucinda Darling Colman's handwritten "Memory Pictures," written between 1923 and 1930.
Concert and Recital Programs, 1902-2012: programs from Conservatory of Music concerts and recitals, including faculty, student, and guest solo recitals as well as ensemble programs
Dean of Men, Dean of Women, and Dean of Students Records, 1926-2005: records including correspondence, memoranda, and reports pertaining to the administration of student affairs
Library Buildings Collection, 1905-2001: materials documenting the planning, construction, and renovation of library buildings at Lawrence
University Audio Recordings, 1947-2007, and University Video Recordings, 1926-2012: recordings in analog, magnetic, and digital formats documenting events such as Commencement ceremonies, lecture series, reunions, news broadcasts, Conservatory programs, and more
WLFM Radio Station Records, 1954-2005: records including Board of Control materials, correspondence and reports of station managers and directors, program schedules, and other materials related to the management of the station
We also have some other projects in the works, including a new home for our digital collections. So keep an eye out for further news as we move into the fall!