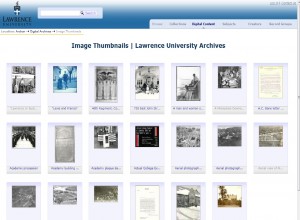 Just about a year ago, we introduced Archon, a database for searching and browsing descriptions of our collections. Since that time we have added descriptions for over 100 collections, including manuscripts, scrapbooks, audiovisual collections, and records from a variety of campus departments and offices.
Now, Archon is also the home for digitized content from collections in the Archives. Over 1,000 images of photographs, letters, Artist Series programs, and other materials are available for searching and browsing. New materials selected from our collections will be periodically added to Archon as they are digitized.
We also have some exciting new digital collections available in Lux. A service of the library, Lux is the digital home for preserving and providing access to the scholarly and creative works of the Lawrence community. Archives collections in Lux currently include recent course catalogs; a selection of yearbooks; oral histories with faculty, staff, and alumni; and a wide date range of Lawrentian issues (with more to come).
If you're looking for something to do over the long winter break (or the long Thanksgiving weekend), spend some time exploring these great historical resources!