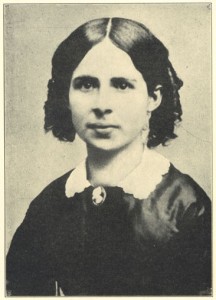 In recognition of Women's History Month, this post celebrates an important figure in Lawrence history: Lucinda Darling Colman. Lucinda was one of three women in the first class to graduate from Lawrence University in 1857 and the first woman to receive an M.A. degree from Lawrence in 1865.
She was born in 1835 in Clarkson, New York. Her family followed a wave of migration to the west in 1840 and settled in Racine, Wisconsin. When it was time to consider opportunities for Lucinda's further schooling, her father heard about Lawrence, a new school that had just opened in the northern part of the state. The family moved to the village of Appleton, and Lucinda entered Lawrence in March of 1850, becoming a member of the first college class in 1853. She went on to marry another member of the class of 1857, Henry Colman, in 1860, and to raise four children. Henry Colman was a Methodist minister and a Lawrence trustee from 1871 until his death in 1927. Both he and Lucinda remained actively involved in supporting Lawrence throughout their lives. Lucinda was the last remaining graduate of 1857 upon her death in 1930. In 1956, the newly constructed Colman Hall was named in honor of her.
During her late eighties and nineties, Lucinda decided to record memories of her life. She called the finished compilation "Memory Pictures," and the LU Archives is very fortunate to have both her written manuscripts and a typescript of the finished work. In this work, Lucinda recalls Lawrence in its earliest days, including memories of classes and student activities, the dedication of Main Hall in 1853, the Academy building fire in 1857, and the first Commencement ceremony. She also recounts her family history and childhood, her marriage and children, and her extensive travels around the country from 1906 to 1923. Her travels included a trip to California that coincided with the San Francisco earthquake of 1906 as well as trips to the eastern United States, during which she saw Andrew Carnegie speak and met President Taft.
Lucinda's "Memory Pictures" are now digitally available through our institutional repository, Lux. Lucinda discusses memories of Lawrence from pages 42 to 58, but the entire work is well worth the read. As President Henry Wriston said upon Lucinda's death, "The memory of Lucinda Darling Colman will always be one of the rare treasures of Lawrence college."