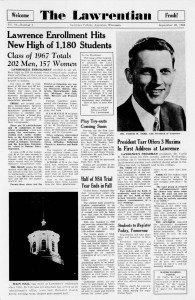 We have a very exciting new digital collection to announce – issues of The Lawrentian from 1923 to 1992 are now available to browse and search online! The Archives has tons of interesting primary sources to turn to for information about Lawrence history, but The Lawrentian, Lawrence's student newspaper since 1884, represents our most comprehensive source.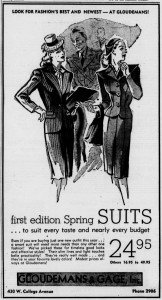 We regularly turn to it for information about student life, traditions, athletics, special events and visitors on campus, changes in the campus or the curriculum through the years, and even for the student perspective on national and international historical events. Until now, this kind of research required paging through large volumes. The ability to keyword-search across nearly 70 years of issues is a huge advantage.
You can read about the 1936 Peace Parade that received national media attention, learn about the beginning of the Navy V-12 program in 1943, check out an early April Fool's issue, read about the student occupation of Wilson House in 1969,  see coverage of past Trivia Weekends, and explore all sorts of other topics.
A big thanks to the Wisconsin Historical Society for microfilming and digitization, and also to Archives assistants Jenni Roesch, Amelia Anderson, and Dakota Williams for their hours of data entry!