In the past year, the Archives provided research assistance for a pair of exciting projects focused on African American history at Lawrence and in the wider Fox Valley community: the History Museum's "Stone of Hope" traveling exhibit, and Forgotten History, a film by Zach Ben-Amots '16. If you missed either one, be sure to check them out.
Since this research began, we've learned a great deal of new information about early African American students at Lawrence. In the early-mid 20th century, a strong culture of racial exclusion and discrimination developed in the Appleton area. Virtually no African Americans lived in Appleton or attended Lawrence during this time. We now know, however, that before this time, there were a number of African American families living in Appleton and students attending Lawrence. In honor of Black History Month, we want to share the names and stories of some of those students:
– Robert Pendleton – attended the preparatory school, 1857-1859. Family lived in Neenah. Robert ran into controversy when he cast a vote for African American suffrage in a state referendum in 1857.
– Lucretia Newman – attended as a freshman, 1872-1873.
– Mary Amelia Cleggett – attended preparatory school, 1871-1872; college, 1872-1876; and graduated in 1876.
– Sarah Emma Cleggett – attended in the academic department, 1874-75, and preparatory school, 1875-1876.
– Ada Kate Clegett – attended preparatory school, 1877-79.
– Claude Monroe Paris – attended as a freshman and sophomore, 1902-1904. Father was J. M. Paris, a barber and alderman in Waupaca. Claude was voted Class President in his freshman year and played on the basketball, track and field, and football teams. If you look closely, you can see him in this image, which you might recognize from Strange Commons in Main Hall.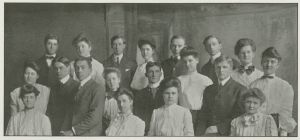 – Sworth Newman – graduated in 1911.

– Frederica Brown – graduated in 1917. After Lawrence, she became a teacher and dean at Wiley University for women in Marshall, TX, and then founded the Phyllis Wheatley branch of the Y.W.C.A. in Indianapolis in 1923.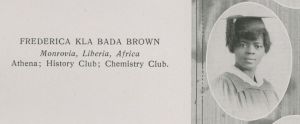 Special thanks to Antoinette Powell for her extensive research on the Cleggett/Hollensworth/Newman families in Appleton. For more information on these students and others, check out the display on the first floor of the library or visit the Archives.