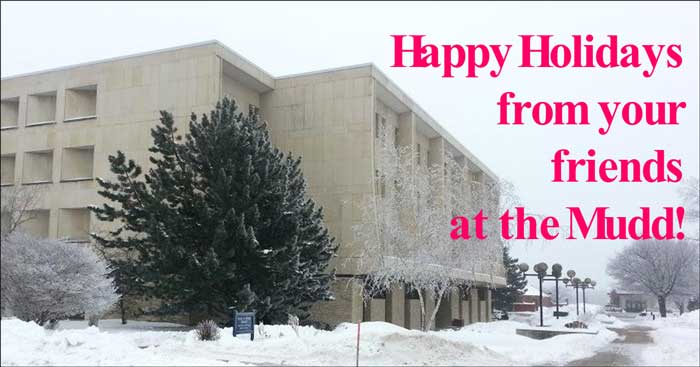 As winter break draws to a close, we're approaching the time when the Mudd Library will be closed for a little break. Before then, be sure to stop by to check out some books, DVDs, scores, games, etc. If you're faculty, now is a great time to drop off your materials for course reserve before the start of term rush!
Special upcoming hours are as follows:
Regular winter break hours of Monday-Friday 8 am to 4:30 pm (closed Saturday and Sunday) will continue through Tuesday, December 24th.
We'll be closed from December 25th through January 1st.
We'll be back and ready to help you get ready for winter term on Thursday, January 2nd and Friday, January 3rd from 8 am to 4:30 pm.
Closed Saturday & Sunday, January 4th and 5th
Resume regular academic year hours on Monday, January 6th
If you plan on spending the end of December getting ready for the term, there's still lots the library can help you with- even when it's closed!
We hope everyone has a safe and happy winter break! Happy holidays from your friends in the Mudd!