Back in November, three library student workers, Allison Wray, Aubrey Klein, Andrea Parmentier, along with Angela Vanden Elzen, one of our reference librarians, attended the 2014 Wisconsin Library Association Conference.  The three students were invited to attend because they are interested in pursuing library sciences and librarianship after college.  In addition to helping organize the Conference's Makerspace, everyone was able to attend some of the numerous presentations and talks, featuring a huge range of topics.  It was a fantastic experience, here is what Andrea, Allison, and Aubrey have to say about it!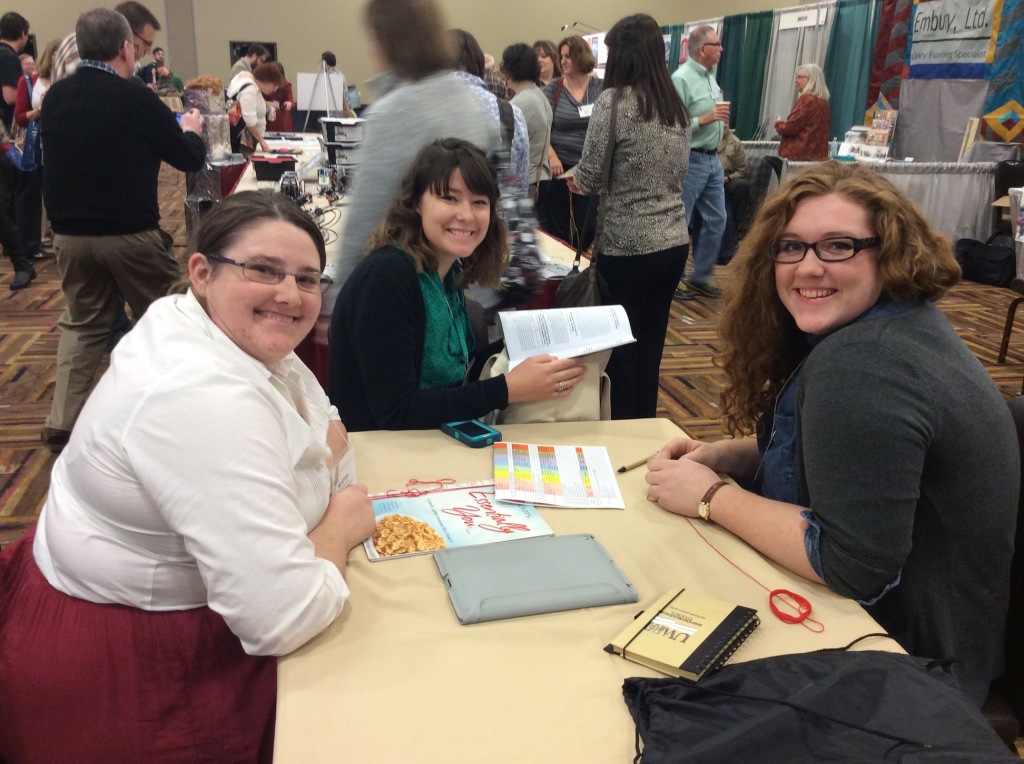 Andrea: I am very grateful for the opportunity I had to go to WLA.  The conference really solidified my resolve that librarian is the career path I want to follow.  I felt that I fit in with these people who want to help people learn and have fun.  It was interesting to see how and what kinds of ideas were exchanged through the conference.  There was a lot of programming interesting for me, even not being a librarian.  I went to panels about how to cater library programs and events to different groups and about keeping up with teens and teen literature, as library programming is one of the areas of librarianship I am most interested and those talks seemed most interesting to one not in the field.
The panels and speeches weren't the only place to find out more information, however.  The exhibition hall, and especially the makerspace that Angela was in charge of, was a great way to meet people and exchange ideas.  Not only were the projects ideas in and of themselves, but librarians working on activities chatted with one another about how to adapt the ideas to fit their own library's needs and goals.  Talking to a couple of librarians was cool too, especially talking to a librarian from our own Appleton Public Library about the types of activities she has for the teens.  All in all, I learned a lot about the ways librarians work to improve their services and what those services are.
Allison: My favorite part of the conference was probably exploring the exhibition hall. There were so many neat tables and people; it was really cool to see such a variety of stalls.  I also really enjoyed some of the presentations I went to, especially the ones on young adult literature and graphic design.  I'm very passionate about art and LGBTQ/feminist activism so I was pleased to be able to participate in a discussion space concerning topics I care about, especially ones relevant to teen readers. I was impressed by how many different topics the presentations covered, I definitely wasn't expecting to directly share my interests in opinions with many people, but I was pleasantly surprised when there was a plethora of relevant and interesting presentations to attend!
I really appreciated that the conference gave me a good idea of the breadth of librarianship and all of the different paths that are available.  I was excited to discover that UW has a Gender and Women's Studies librarian who was tabling there, and it was great to talk to her and learn about what she does. I was also reminded of just how much libraries do, in both the public and academic sphere. I haven't had much public library experience, so it was exciting to see all of the programming and ideas that people had. I definitely feel like librarianship is a good path for me—there are just so many different options and opportunities that make it appealing and exciting!
Aubrey: In particular, I really liked the presentations  given by young-adult librarians and hearing what they had to say.  In their work, they use young-adult novels as a way to talk about and teach teens about topics like sexual assault, body-image, LGBTQ relationships and many other things.  I've always loved YA but it helped me realize just how important the genre is for teen readers, considering that it is often so easily written off by adults or people who don't consider YA "serious" reading.
I was surprised at the huge amount of presentations and activites being presented at the conference.  There were a lot of different topics covered under categories like leadership, community and event planning.
The conference definitely reaffirmed that librarianship is the field for me.  I was fascinated and excited by everything that I learned and sensed a lot of community and solidarity among the library community.  It also presented some new paths to me that I may not have thought about before, like teen librarianship.
I was reminded that librarianship is far more than just picking books for a collection.  Libraries are community spaces that provide a variety of resources for every person in the community, from the poorest to the richest.  I love that libraries are a space for everyone to feel welcome and that even if a person comes to the library every day and never checks out a single book, the library is still providing them with something, whether it be internet access, an after-school program, or a warm shelter.  Librarians really play a huge role in community building, and can have a major impact on the lives of those who use the library.