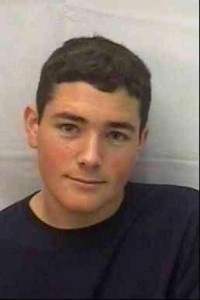 We are sad to share the heartbreaking news that Ryan Broderick '11, a student on leave from Lawrence University this term, was killed in a hiking accident Friday, April 30, 2010, three days before his 21st birthday.  The Mariposa County Sheriff's Department says Ryan was with five friends who had climbed up the slope called Briceburg Grade, near Yosemite National Park. He slipped on the surface and fell down the cliff. He was pronounced dead at the scene.
"The Lawrence community is deeply saddened by Ryan's death, and our prayers and thoughts of sympathy go out to his family and friends," said Lawrence University President Jill Beck.
Ryan came to Lawrence in 2007 after graduating from El Segundo High School in El Segundo, California.  He was a member of the Lawrence University Writer's Club, the Philosophy Club and PAWs (People for Animal Welfare).  Ryan traveled many places and touched many lives. He was known for his open-hearted spirit, enthusiastic zest for life and generous nature. His contagious smile and bright eyes will always be in our hearts.
Ryan was born May 3, 1989 in Santa Monica, California. He is survived by his loving parents, Chris and Lisa Broderick, El Segundo, California; and his sisters, Cathy and Nikki.  The funeral service will be Saturday afternoon at El Segundo United Methodist Church. To honor Ryan's memory, the family asks that any donations be made to Ryan's Place, c/o Three Springs Community, 59810 Road 225, North Fork, CA 93643, or Food Not Bombs, Donation LA, 2140 E. 7th Pl., Los Angeles, CA 90021.  You are invited to sign the guestbook.