Lawrence University President Jill Beck officially opens the college's 162nd academic year as well as the 2010-11 convocation series "Innovation Through Collaboration" Thursday, Sept. 16 with the annual matriculation address.
Beck presents "Expanding Student Opportunities in Research, Performance, Public Service and Environmental Activism" at 11:10 a.m. in the Lawrence Memorial Chapel. The convocation is free and open to the public.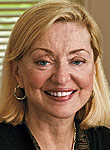 In her address, Beck will outline the steps involved in the process of innovation and highlight some examples in which Lawrence is practicing innovative approaches in curricular and co-curricular areas. Joining Beck in the presentation will be Professor of Music Janet Anthony, Assistant Professor of Government and Stephen Edward Scarff Professor of International Affairs Jason Brozek, Associate Professor of History and Pieper Chair of Community Engaged Learning Monica Rico, Associate Professor of Government and Edwin & Ruth West Professor of Economics and Social Science Dena Skran and students Sarah Ehlinger, Joseph Neumann and Katelin Richter.
Beck is in her seventh year as president of the college. Since assuming the presidency in 2004, she has focused her priorities on raising Lawrence's national profile, increasing the number and spectrum of individualized learning experiences for students, fostering collaboration between the fine and performing arts and the traditional liberal arts and sciences, cultivating a desire for environmental sustainability on campus and in the lives of Lawrence alumni, creating greater diversity in the Lawrence community and engaging alumni, parents and friends of the college to enhance educational experiences.
Other speakers on the 2010-11 convocation schedule include:
• Oct. 5, 2010 — Ray Suarez, senior correspondent for "The NewsHour" on PBS, "The Browning of America."
• Feb. 8, 2011 — Mary Jane Jacob, executive director of exhibitions and exhibition studies, 
School of the Art Institute of Chicago, "The Collective Creative Process."
• April 5, 2011 — Timothy X. Troy '85, Professor of Theatre Arts and J. Thomas and Julie Esch Hurvis Professor of Theatre and Drama, Lawrence University, "Unexpected Collaborators: The Geniuses Among Us."
• May 17, 2011 — Sara Quandt '73, professor, department of epidemiology and prevention, division of Public Health Sciences, Wake Forest University School of Medicine, "It Takes a Community: Collaborating to Reduce Health Disparities in the U.S."