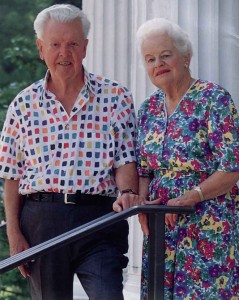 A $3.99 million gift from the charitable trust of two former Lawrence University students who met on campus more than 75 years ago will provide significant investment in campus facilities as well as support for student scholarships and the endowment officials announced today.
One of the largest gifts in Lawrence history, the $3,997,319.72 bequest from the Paul and Katherine Schmidt Trust will be directed toward three main areas: improvements in the campus physical plant, including residence halls; the Paul and Kay Schmidt Endowed Scholarship Fund, which was established in 1989 to support students with interests in economics or business; and Lawrence's endowment.
"We are deeply grateful to Paul and Kay Schmidt for their loving and generous support of Lawrence University," said President Jill Beck in announcing the gift.  "They always were faithful donors to the college throughout their lifetimes.  Our alumni as a whole support the college and conservatory in innumerable ways, at different levels of funding but with equal passion for the experiences they had at Lawrence.  We hope the entire community feels affirmed through the recognition and magnanimous support of Paul and Kay Schmidt."
Both members of Lawrence's class of 1939, Paul and Kay Schmidt attended the college's homecoming festivities together in 1935 as a first date.  They eventually married and shared more than 68 years of marriage together.
A native of Park Ridge, Ill., Paul Schmidt participated in an executive program at Harvard University after earning a degree in economics at Lawrence. He spent most of his career with the Harold F. Pitman Company, a printing business, rising to rank of chief executive officer and chairman of the privately-held company based in New Jersey.  He retired in 1982, having helped the company grow into North America's leading graphic arts supplier. He died in November 2009 at the age of 92.
Kay, a native of Chicago, passed away in February 2009 at the age of 91.
The Schmidts established their charitable trust in 1994 during the five-year, $60 million "Lawrence 150" campaign celebrating the college's sesquicentennial.
"Just as their initial gift provided momentum for the Lawrence 150 campaign, this latest gift is a great boost to our current More Light campaign," said Cal Husmann, vice president for alumni, development and communications.  "Deferred gifts like the Schmidts' are playing an increasingly important role in our campaign and other fund-raising efforts across the country."
The $150 million "More Light" campaign, publicly launched in October 2008, has raised $137 million to date.  The campaign is expected to conclude in October 2011.