Prof. Robert Yablon (Univeristy of Wisconsin Law School) will be at Lawrence University November 8 to discuss contemporary challenges to redistricting law, including Wisconsin's own Gill v. Whitford.  In his talk, "Partisan Gerrymandering: What Next?," he will discuss both legal and partisan issues with drawing the lines that group voters into districts–and what that means for democratic representation.  He is an expert in election law, federal courts, and campaign finance law.  Yablon was a Rhodes Scholar at Oxford University and has clerked for both Justices Ruth Bader Ginsburg and Sonia Sotomayor.  An engaging teacher, Prof. Yablon was honored with the Classroom Teacher of the Year award this year at University of Wisconsin Law School.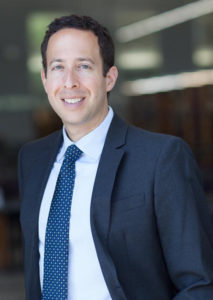 Yablon's visit is sponsored by the American Constitution Society and the Lawrence University Government Department.  "American democracy is uniquely about rules and institutions, and nowhere is this more evident than in American elections.  There is no roadmap in the Constitution for drawing the lines, but Prof. Yablon can show us the contours of where they might go," said Prof. Arnold Shober, an associate professor of government.
Prof. Yablon talk will be in Wriston Auditorium at 4:30 p.m., November 8.  The event is free and open to the public; no tickets are required.