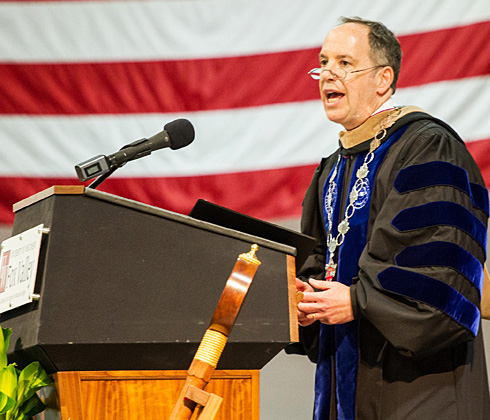 Lawrence University President Mark Burstein told graduates at UW-Fox Valley that "striving for inner character – to be kind, brave, honest or faithful – is as important or maybe more for your success than the degree you receive tonight" during the college's spring commencement ceremonies.
Burstein served as the principal speaker May 20 for the Menasha campus' annual graduation exercise held in the UW-Fox Fieldhouse, during which 224 Associate of Arts and Science degrees were awarded.
As part of the festivities, UW-Fox surprised Burstein by awarding him an honorary Associate of Arts and Science degree.
Burstein is the second Lawrence president to deliver UW-Fox Valley's commencement address, joining Richard Warch (1979-2004), who served as commencement speaker for the 1989 ceremony.
In his remarks, Burstein assured the graduates that their experience at UW-Fox Valley helped build their inner character "as you read and listened and talked to each other in and out of class.
"Look back and take account of the learnings you gained from this experience," Burstein said. "They will serve you well, surely as well as what you learned in books from English, biology and economics classes."
He also credited the students' UW-Fox Valley education for preparing them for a life of "deeper inquiry."
"We live in a complicated time where opposing viewpoints are often expressed with great fervor and without consideration for other perspectives," Burstein said. "It is easier than ever to take at face value the information available on the Internet, television and the press.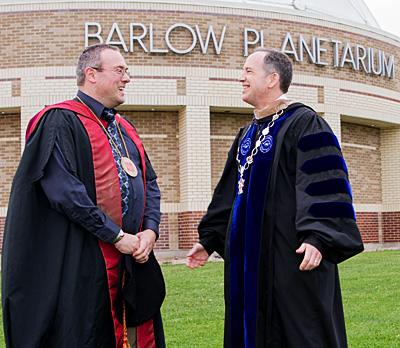 "What has always been and what will always be more challenging, but I would argue also more rewarding, is to consider the issues that face this state, nation and world using the critical analysis you have employed in the service of your education to determine your own views and to help you plot your course in the years to come.  You have learned to question. That is an important and useful skill. It is a skill that builds character."
Burstein issued a challenge to the graduates as they prepare to move on to the next chapter of their lives and confront the decisions and challenges that await them.
"Aim high and be bold," he said. "The world is waiting for your talent and leadership."
Watch President Burstein's address.
About Lawrence University
Founded in 1847, Lawrence University uniquely integrates a college of liberal arts and sciences with a nationally recognized conservatory of music, both devoted exclusively to undergraduate education. It was selected for inclusion in the Fiske Guide to Colleges 2015 and the book "Colleges That Change Lives: 40 Schools That Will Change the Way You Think About College." Engaged learning, the development of multiple interests and community outreach are central to the Lawrence experience. Lawrence draws its 1,500 students from nearly every state and more than 50 countries.