Lawrence University has been recognized as one of the "Best Value Schools" in the country by The Princeton Review, ranking No. 4 in the category of best schools for making an impact.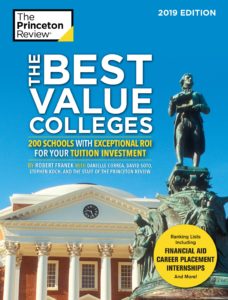 Lawrence is one of 200 schools selected for inclusion in the 2019 edition of the newly released book, The Best Value Colleges: 200 Schools with Exceptional ROI for Your Tuition Investment.
ROI references Return on Investment.
Within the book, Lawrence is ranked No. 4 in the category of Impact Schools, a category driven by student ratings of their experiences on campus, including student engagement, service, government and sustainability, and by the percentage of alumni who report that their jobs have "high meaning."
In The Best Value Colleges – an annual release that was previously titled Colleges That Pay You Back – "we recommend the colleges we consider the nation's best for academics, affordability, and career prospects," according to the book's editors at The Princeton Review.
The 200 schools that were selected were not ranked in any particular order. But within the book, Top 25 rankings were done in several categories, including Impact Schools.
The book lauds Lawrence for its academic strategies, including the Freshman Studies program, its "significant financial aid and scholarship opportunities," its social activities that have "an altruistic bent" and its effective career services outreach to graduating students.
The ranking is one more reminder that the value of a Lawrence education continues to resonate long after graduation day.
"Lawrence has been transforming students' lives for generations," said Ken Anselment, Vice President for Enrollment and Communication. "So we are thrilled that the Princeton Review, which started measuring this phenomenon a few years ago, has once again rated the experience of our alumni so highly."
The book highlights Lawrence's commitment to financial aid and scholarships.
Lawrence has garnered national attention for its "Full Speed to Full Need" campaign designed to help bridge the financial gap for students who show a demonstrated need. The campaign has raised more than $74 million since 2014 and Lawrence is on its way to becoming one of only about 70 universities nationwide to be designated as full-need institutions.
Bolstered by a $30 million matching gift to kick off the campaign, the school has made a bold commitment to "make Lawrence accessible and affordable by meeting the full demonstrated financial need of every student."
The Impact School ranking, meanwhile, speaks to the experience on campus and beyond.
"When families are considering the return on their investment in a college," Anselment said, "we like to talk about this particular ranking because it highlights that Lawrentians feel that their careers and lives have meaning and that they are truly making a difference in the world.
"What better outcome could you ask for from a college experience?"