Mission accomplished.
Less than 15 months after presented a challenge of matching a $25 million gift from an anonymous donor for student scholarships, Lawrence University has more than met the challenge of its "Full Speed to Full Need" initiative.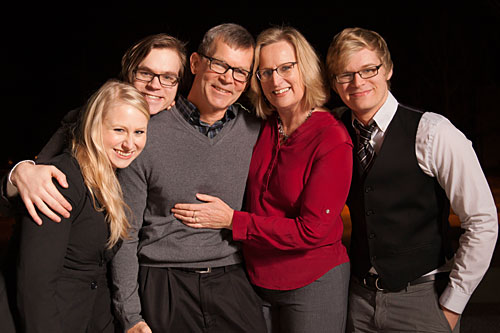 Several recent gifts pushed the match total to $26.9 million, enabling Lawrence to establish an endowment of just under $52 million that will be used exclusively for scholarships to help meet students' demonstrated financial need.
During the Full Speed to Full Need campaign, 48 new student scholarships were created, including one by a Kaukauna family that will directly benefit local students.
The Paulson Family Scholarship, established by Tom and Mary Paulson, and their three children, Sarah, Nick and Erik, will provide the full demonstrated financial need for four years to a Kaukauna High School graduate attending Lawrence.
With a focus on high-need applicants, the scholarship will be awarded once each year to a student for a total of up to four recipients. The goal after four years is a freshman, sophomore, junior and senior will attend Lawrence as a Paulson Scholar.
In the absence of a qualified student from Kaukauna High School, the full-need scholarship will be awarded to a student from any Fox Valley high school.
"Having a local family support Fox Cities' students is extremely moving to me," said Lawrence President Mark Burstein. "While Lawrence attracts applicants from across the country and around the world, we are honored that every year many local residents choose Lawrence. The Paulson Family Scholarship will help us attract and support excellent students from our own back yard."
Tom Paulson said he wanted to create the scholarship in part because "Lawrence is often overlooked due to the financial barrier."
"Our vision is to make Lawrence accessible to motivated students who may not have the financial means for a Lawrence education," said Paulson, who graduated from Lawrence as a non-traditional student at the age of 32 in 1993 thanks in part to the financial support he received from the college.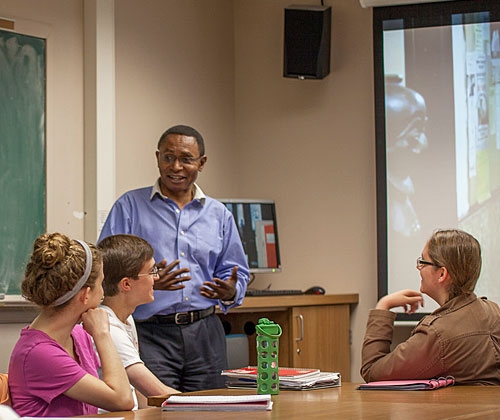 Beyond Tom, the Paulson family connection to Lawrence includes son Nick, a 2014 Lawrence graduate who is employed at the college as a residence hall director and campus life student organizations coordinator, and son Erik, a senior at Lawrence. Sarah is a graduate of St. Norbert College. Like their parents, Nick, Erik and Sarah are all Kaukauna High School graduates.
Tom Paulson enrolled at Lawrence on a part-time basis in 1983 through a tuition remission program set up with the Institute of Paper Chemistry, where he was employed as a research technician. When the IPC relocated from Appleton to Georgia Tech in 1989, he and his wife remained in town but were left without the tuition remission program. Students must be enrolled full time to be eligible for scholarships and grants at Lawrence.
"The creative financial assistance Lawrence brought to the table enabled me to continue my education," said Paulson, who re-enrolled in 1989 while also working full time as lab manager at Integrated Paper Services. "My professors were extremely generous and sensitive to my needs in balancing full-time work, class schedule, lab schedules and my family life. I can't envision this type of accommodation at any other institution."
"While Lawrence attracts applicants from across the country and around the world, we are honored that every year many local residents choose Lawrence. The Paulson Family Scholarship will help us attract and support excellent students from our own back yard."

— President Mark Burstein
Paulson said Lawrence's style of education and its focus on fostering creativity were important factors in his two sons following in his footsteps.
"Building strong personal bonds with administrators, professors and peers is vital for success academically, personally and professionally," said Paulson. "Both of my sons thrived at Lawrence and have become critical thinkers with a passion for learning."
Since announcing the Full Speed to Full Need matching gift challenge in September 2014, Lawrence received a total of 426 gifts. The support for the scholarship initiative was as broad as it was swift, with more than half the donors (236) contributing $500 or less. The college did receive 48 gifts of $100,000 or more, including seven of $1 million or more.
"When we embarked on this $25 million challenge, we thought it would take five years to accomplish," said Cal Husmann, vice president for alumni, development and communications. "We are amazed that we were able to raise this amount of money in 15 months. We are so honored and inspired by the response of the Lawrence community who contributed to this initiative which makes Lawrence more affordable to more students. Every gift of every size makes a difference."
For the 2015-16 academic year, 69 percent of Lawrence's 1,500 students are receiving need-based financial aid packages that average $35,483.
About Lawrence University
Founded in 1847, Lawrence University uniquely integrates a college of liberal arts and sciences with a nationally recognized conservatory of music, both devoted exclusively to undergraduate education. It was selected for inclusion in the book "Colleges That Change Lives: 40 Schools That Will Change the Way You Think About College" and Fiske's Guide to Colleges 2016. Engaged learning, the development of multiple interests and community outreach are central to the Lawrence experience. Lawrence draws its 1,500 students from nearly every state and more than 50 countries.