Logan Olson is a senior Student-Athlete Double-Majoring in Math and Economics. This past summer he had the opportunity to work as an intern at Craig-Hellum Capital Group, a trading and investment firm in Chicago.
This article's NACE competency focus is Teamwork. We had the opportunity to speak to Logan about how he was able to use his teamwork abilities as a student-athlete at Lawrence to succeed in his internship. Here is what we asked him.
Describe a situation where you had to collaborate with team members who had different work styles or perspectives. How did you adapt to ensure effective teamwork?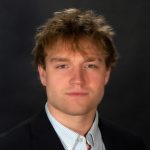 During my summer internship at Craig-Hallum Capital Group, I served as an analyst in their Mergers and Acquistions team where I played a critical role in engineering sophisticated financial models. These models were instrumental in providing potential investors with the insights needed for informed decision-making and a comprehensive evaluation of our clients. Additionally, I was responsible for synthesizing financial information into Excel, which enabled accurate forecasting for model development. One of the most valuable aspects of my experience was attending management meetings with private equity firms and strategic buyers, which allowed me to gain a deeper understanding of deal lifecycles and sell-side operations.

In the fast-paced world of investment banking, teamwork emerged as a necessary behavioral skill that was crucial to my success at CHLM. Constant communication among team members was paramount — I frequently received feedback from vice presidents and managing directors, ranging from financial models to confidential information presentations (CIPs). In response, I adopted a collaborative approach, completing my tasks, sending them to fellow analysts for additional eyes, and then forwarding them to the VP. These submissions frequently returned with requests of the smallest of adjustments, such as formatting and alignment. In each instance, I promptly addressed the feedback, resolved the issues efficiently, and sought clarification when necessary. Drawing from my experience as a student-athlete, I recognized the foundational principles of being a team player as instrumental to my success at the firm. In a collaborative environment, it is necessary to carefully listen to others while also being accountable for individual and team responsibilities. These skills not only improved my performance as an analyst but also reinforced the importance of teamwork in the demanding world of investment banking.

Logan Olson '24
Logan's ability to collaborate in a team, embrace feedback, and remain coachable was a valuable asset during his internship at Craig-Hallum Capital Group. His openness to feedback, and being a "coachable" person allowed for quick improvements, making him an effective team player in the fast-paced world of investment banking.
And you? How would you answer that question? How are you showcasing your ability to work in a team in your resume?
If you would like to know more or have questions on how you could showcase your skills on your resume or in an interview, feel free to email me (oliver.decroock@lawrence.edu) or schedule an appointment here.
Oliver De Croock '24, Student-Athlete at Lawrence University majoring in Economics and Data Science. Oliver works as a Career Peer Educator at the Career Center and is the President of the Lawrence University Business Networking Club. Connect with Oliver on LinkedIn.