I have finally started reading Capitalism, Socialism, and Democracy by Joseph Schumpeter. And now I simply can't put it down. This has not happened to me with an economics book since I read The Road to Serfdom by Hayek. Schumpeter's work is pure gold, prescient, wise, analytically crystal clear, and beautifully written (yes, every so often one must reread a paragraph-long sentence). I can't wait to discuss the details in our CS&D reading groups.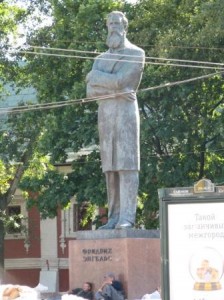 The second part of the book is on capitalism, and Schumpeter make some arguments that seem decidedly Marxian, resembling conclusions that Marx "reached." Which is probably why Schumpeter found it important to start the book with a first part on Marx's work. Schumpeter's critique of Marx is balanced, even generous, but penetrating. I have read before that Schumpeter succeeded best by far in putting Marx's work in perspective, and now I can see how. (Not that I have much expertise on Marx.)  Yes, Schumpeter says, I reach some similar conclusions, but make no mistake, dear reader: there is a world of difference between how Marx got there and how Schumpeter did. And there is a world of difference between the implications of Marx's "analysis" and Schumpeter's.
I particularly enjoyed Schumpeter's analogy between Marxism and religion. I have read others who make the same point, but Schumpeter makes it so much better. Marxism is not just a theory of economic change, but a theory of the world. And so it gives followers a lens through which they can see and interpret everything. The Witness is a Hungarian cult movie from the sixties on the Soviet system. In one scene, the head of the state secret police says, "whether you eat baked potatoes or pork roast, the class struggle is intensifying!" People quoted this phrase for decades to come in an ironical voice in comments on the political and economic situation. Yes, it is possible to see everything as a manifestation of class struggle. And once you see everything that way, it is difficult to think outside that system. Though I grew up in the last stages of goulash communism, I was to some extent exposed to that world view, partly in a very personal way. My great-uncle was a true believer in Marxism well before it was fashionable in Hungary. In fact, his own father was in and out of jail in the 1920s for being a communist. (At that time, right-wing Hungary's police stations had copies of a thick black book—a list of undesirable, suspicious people to watch out for. My great-uncle's father was listed as guilty of being a Communist and a Jew.) My uncle, after he came back from Auschwitz, got to work in helping build the communist future. He taught Marxism in evening classes to those who needed to be "educated." And even though he lived through the many failures of that system, he remained a believer to some extent till the end of his life. Yes, Marxism offers a theory of why things are bad, who's to blame, and hope for inevitable salvation.