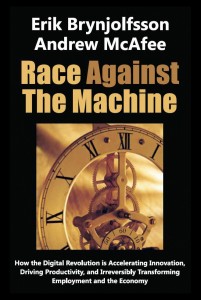 This week Lawrence will be hosting a TEDx conference on re-imagining liberal education.  Thanks to Professors Galambos and Gerard, and a few other colleagues from other departments, this live discussion will be video streamed for all of us to watch.
Earlier this month, another TED conference took place.  This one featured economist Robert Gordon (Northwestern) and Eric Brynjolffson (MIT).  Some of you will be familiar with the arguments.  Those who took Capital and Growth last year read Gordon's paper on the headwinds that will drive economic growth back to the level experienced prior to the first industrial revolution in the 18th century in England.   Gordon believes that our most productive innovations are behind us and innovation will be insufficient to enable us to sustain the 2% per capita real growth of the 20th century.
Some of you may recall the discussion we had in one of our reading groups of Brynjolffson and McAfee's book, Race Against the Machine. In his TED talk, Brynjolffson explains why innovation is far from over and that we have the potential to continue the rate of growth of economic prosperity that we experienced in the 20th century.  Of course, the challenge, as he puts it is: "can we race with the machine?"
View both talks as well as a follow-up debate between these two economists here.