In the years after World War II, Wisconsin leveraged its manufacturing base to keep its income per capita above that of its Minnesota rival.  Since the 1960s, however, the pattern has reversed.  Consequently, Minnesota now ranks among the states with income well above the US average while Wisconsin has fallen below this benchmark.  In a recent article, Roger Feldman, University of Minnesota economist, provides  four compelling reasons for this marked change in economic fortune, largely based on growth pattern differences between the Milwaukee Metropolitan Area and the Minneapolis-St. Paul Metropolitan Area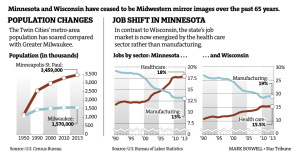 1. Minnesota diversified its economy more than Wisconsin has.
2. Minnesota did a better job of educating its residents generating fewer high school dropouts and more college graduates.
3. Minnesotans are much healthier than Wisconsinites with, among other factors, lower adult obesity rates and higher spending on parks and recreation.
4. Minnesota located its primary university and state capital in its economic center; Wisconsin chose not to locate these entities in Milwaukee.
For more details on his arguments, check out the article.  In my view, these arguments support the notion that sustained economic growth comes from a vibrant, diverse, urban economy rather than one that tries to preserve economic advantage of past eras at the expense of supporting innovation and entrepreneurship.