We are pleased to announce an exciting new addition to our digital collections! After several months of scanning and data entry, a collection of 240 glass slides depicting the Lawrence campus and student life from the early decades of the 20th century is now available here. The collection represents the majority of the glass lantern slides and glass plate negatives housed in the Archives and is composed of several distinct series of slides.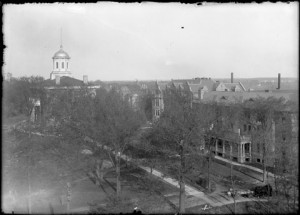 About half of the collection consists of lantern slides from promotional presentations that date from about 1910 to 1930.  These include images of campus buildings and grounds, student activities, and informational slides describing the college. A second series consists of photographs taken by Chester Allen, class of 1912. This series presents a view of Lawrence through the eyes of a student during Chester's four years at Lawrence, 1909-1912. A third series includes images from the college's 75th anniversary celebration held in 1922.
Since the fragility of the physical slides makes them somewhat difficult to use, we are particularly excited to be able to make these images more widely accessible through this digital collection. So go forth and check it out!