At this point in the early days of the war 150 years ago, there was much fervor for the Union effort in Appleton. Ernest Pletschke, Instructor in Modern Languages at Lawrence, had organized a company of men that became known as the Appleton Light Infantry. He served as the company's captain and drilled the men from late April through early July. Because the state had already filled its quota for soldiers, the company was not immediately needed and was disbanded.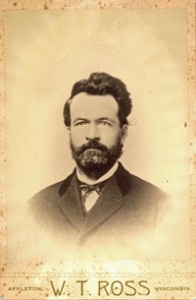 At about this time, the first of two units that contained a concentration of Lawrentians was forming: Company E of the 6th Wisconsin Infantry. On Monday, July 1st, 1861, the 41 Appleton volunteers left to join up with a group in Fond du Lac and head to Camp Randall, as described in a July 6th Appleton Crescent article:
"On Monday morning all was hustle and hurry to prepare for the ceremonies for the volunteers leaving that day for Fond du Lac and Bragg's Rifles. Soon after noon the crowd commenced assembling at Reeder Smith's park. At the park, the ladies formed in a line, each armed with a beautiful bouquet and a package, the latter containing towels, pins, needles, thread and other conveniences. The music struck up and the men were marched to the head of the column of ladies, where they halted and listened to a song by the Misses Merriman, after which President Mason of Lawrence University made a few appropriate remarks, encouraging them in the noble cause in which they were about to be engaged…
With cheers upon cheers, family farewells and the warm, earnest clasp of the hand, the heartfelt 'good bye' and 'God bless you,' the 'all aboard,' and then the shriek of the Iron Horse and they were gone.  With them goes the prayers of many a warm heart for their success and return when the traitorous hosts of the rebels shall have been humbled and punished for daring to trample on the Star Spangled Banner."
Of these 41 volunteers, seven had been enrolled at Lawrence, mostly in the Preparatory Department. The 6th Infantry went on to become part of the famous Iron Brigade. You can read more about the 6th Infantry, including a full history and roster, from resources at the Wisconsin Historical Society.