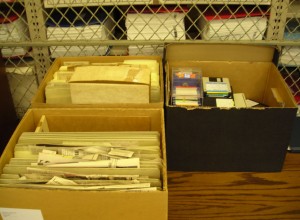 Summer has flown by in the Archives, and now we're gearing up to welcome students back to campus! While we've taken a brief blog hiatus, a number of other projects have demanded attention. Here's a summary of where the time has gone:
10 linear feet (and an as-yet-unknown number of bytes) of records acquired from campus offices, and several donations from alumni
3 collections of past presidents' papers processed (totalling 5 linear feet)
portions of the Archives stacks reorganized
reference questions (via phone, email, and in-person visits) from faculty and staff, alumni, researchers from other institutions, and the general public
lots of planning for the upcoming year
There are some changes on the way for the website as well as some fun things planned for the next couple of months, so stay tuned for updates!