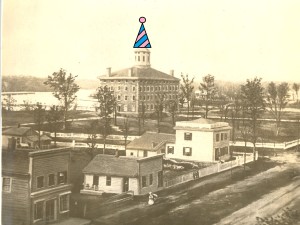 This Friday, January 15th, 2016, is Founders Day at Lawrence. It marks the 169th anniversary of the granting of Lawrence's charter by the Wisconsin Territorial legislature. In honor of this occasion, we're hosting an Archives Open House!
Stop by the Archives (Level B in the library) anytime 1-5pm on Friday to:
learn about Lawrence's founding and early years
view a manuscript copy of the charter, early photographs, and other archival materials
chat with the archivist about LU history
scope out the Archives and what it's all about
maybe pick up a treat (that can be enjoyed outside of the Archives!)
Very important update: If you are unable to join us in person for Founders Day but would still like to celebrate, perhaps you would be interested in our Founders Day Coloring Book, featuring images from the Archives.