In honor of African American History Month last year, we shared information about early African American students who attended Lawrence. This year, we want to share some materials that document the experiences of African American students at Lawrence during the late 1960s and early 1970s.
Like many similar small liberal arts colleges, Lawrence began actively recruiting and enrolling African American students in the mid 1960s, well into the years of the Civil Rights movement. But Lawrence did not do well with supporting these students once they were here. These problems spurred two protests by the Association of African Americans student organization: one in February, 1969 and another in April, 1972. Shortly after the 1972 protest, President Thomas Smith assembled an "Afro-American relations compendium" and mailed copies to all Lawrence trustees. The compendium includes a letter from President Smith explaining "[his] perspective of what led to the confrontation" and a number of attachments documenting events beginning with the February 1969 AAA protest. It includes memoranda, reports, and statements from the AAA, presidents Tarr and Smith, and the Ad Hoc Committee on Black Student Affairs. (Tucked into the compendium but not included in this digitized version are copies of The Lawrentian dated 1972-04-18 and 1972-04-21.)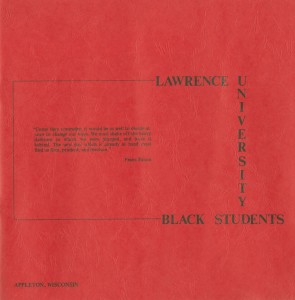 In the academic year following the 1972 protest, Lawrence had its highest enrollment to date of African American students – 80 students were enrolled in 1972-1973. Apparently around this time, the Admissions Office enlisted the help of African American students in creating a brochure for prospective students, entitled "Lawrence University Black Students." The brochure highlights the Association of African Americans, admissions, academics, campus life, and sports. The authors are candid in their introduction: "Lawrence is a challenge, still another one in the chain of challenges black people have to face and overcome. Realizing the great need of the black community for young black college graduates who not only understand the dilemmas of black society but of white as well, we urge you to accept this challenge of Lawrence University."
To see either of these documents in person or learn more about African American history at Lawrence, visit the Archives.