In writings about Lawrence's founding, you might have come across references to Native American students. There are a couple of quotations or statistics that have been cited regularly in publications about Lawrence, especially older ones: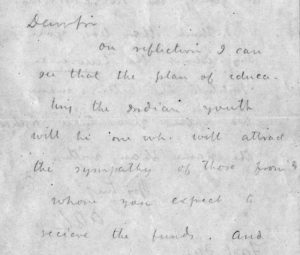 Lawrence was founded to provide "gratuitous advantage to both sexes of Germans and Indians." Often mistakenly attributed to Amos Adams Lawrence, this quote actually comes from a fund-raising brochure written by Reeder Smith (an agent hired by Lawrence to raise money for the school) in 1847. The brochure was circulated among potential donors, so it was written to appeal to their charitable impulses. You can read the full brochure starting on page 30 of the 1922 Lawrence College Alumni Record.
"Thirteen out of the first 35 students who attended Lawrence were Oneida." This statistic is incorrect – it's based on a misinterpretation of early student records here in the Archives.
In reality, about 30 Oneida students attended Lawrence between about 1850 and 1880. Lawrence received both charitable support and dedicated federal funding (from the Bureau of Indian Affairs) to enroll these students. The goal, as we would understand it today, was assimilation. To learn more about some of these students, we might find tidbits in records like student newspapers. But beyond that, our records cannot show us what it was like to be an Oneida student at Lawrence in its early decades.
It's worth emphasizing that the presence of Native American students (and African American students) at Lawrence in these years is not evidence of an early institutional commitment to diversity and inclusion. We should aim to understand this history in its full context.
If you are interested in learning more about this or other aspects of Lawrence history, please contact or visit the Archives.