Have you heard about the new Lawrence University Interdisciplinary Makerspace for Engaged Learning? It is an exciting space for hands-on learning and creation, located on the first floor of the Mudd Library. A makerspace is any space that encourages making, tinkering, and creativity. Some are focused more on technology, some on manufacturing, some on building, and some on crafting. Our space is a little of each of those with an academic focus. The LU makerspace includes two 3D printers, a desktop 3D scanner, a handheld 3D scanner, an electronic cutter, a sewing machine, and supplies for painting and making collages (learn more on our guide). The space also houses the digital conversion lab.
Instructional Technologist Arno Damerow, Reference Librarian Angela Vanden Elzen, and Associate Professor of Chemistry Dave Hall oversee the daily use of the space, work with students and classes, and plan makerspace events and speakers.  A large group of Lawrence faculty and staff, including Anna Simeth from the Development office, contributed to the grant proposal to the Associated Colleges of the Midwest (ACM) that allowed for the purchase of much of the equipment.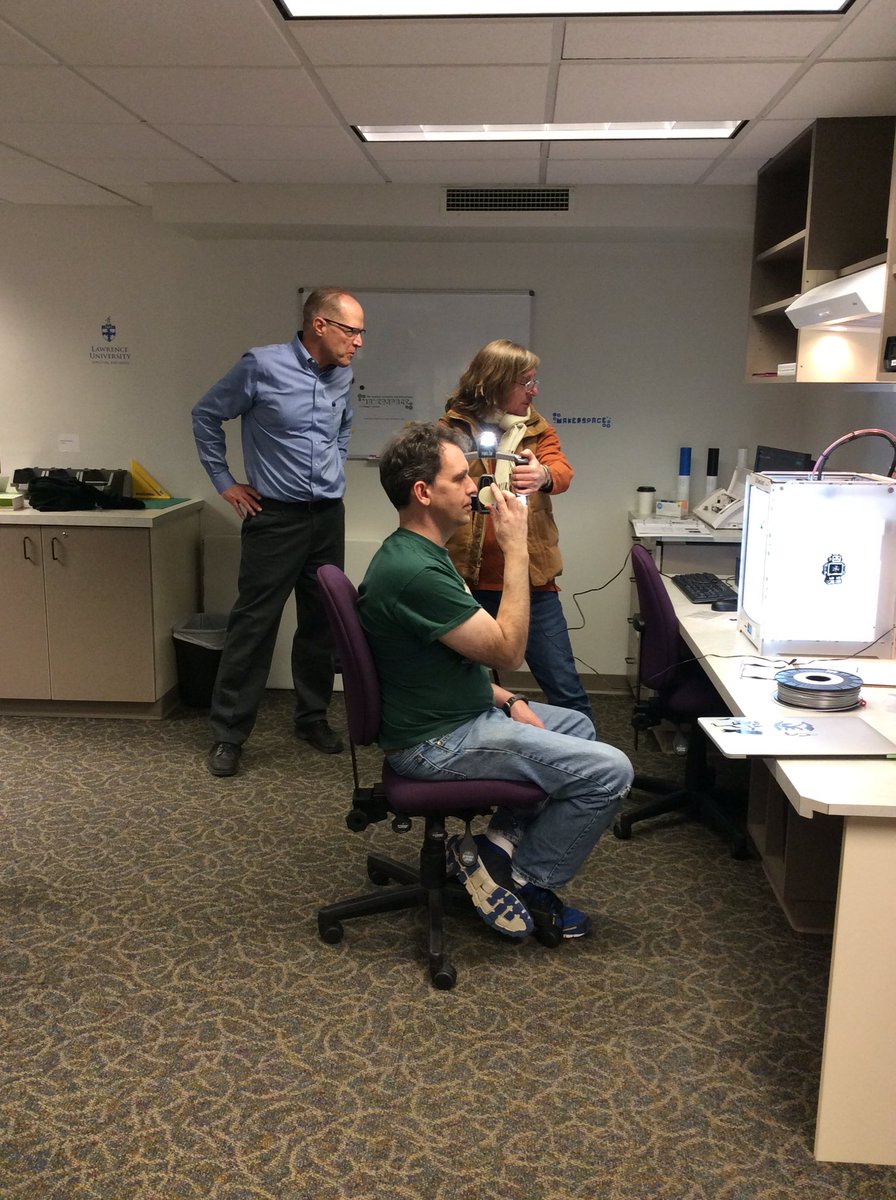 Read more about how this great space came to be (thanks to help from our friends in Technology Services, Facility Services, and Provost Dave Burrows), read about assignments, and view documentation on the makerspace website. Keep up with recent news and uses of the space with the makerspace Twitter account.
Part of the grant from the ACM included funding to bring in speakers to discuss the idea of maker pedagogy, and how to integrate it into higher education. Our first speaker, Matt Sonnenberg from the University of Wisconsin – Stevens Point, will present on March 31st at 11:10 a.m. in the Warch Campus Center Cinema. Matt will share his experiences with integrating 3D printing into classes on the UWSP campus. All are invited to attend this presentation.
Have questions about the makerspace or interested in using the space with your classes or an independent study? Contact us at makerspace@lawrence.edu.